You might not have noticed the trend, but Butterfly Locs are a new boho style popular on social media. Here's everything you need to know about this latest style that everyone is talking about.
This year, butterflies locs and knotless box braids were the two most popular protective styles. As with faux locs, this 1990s-inspired style is typically shorter and is created using wavier hair in order to make the locs look more undone. A faux locs is a style in which you wrap the hair to make it as neat as possible, while a butterfly locs uses your thumb to loop the hair and give it a messier effect, celebrity hairstylist Molecia George previously explained to POPSUGAR.
Stars like Ciara and Leigh-Anne Pinnock have been sporting butterfly locs lately, and having them as a summer style is the ideal way to experiment with a new look.
What are Butterfly Locs?
There is a striking similarity between this new style of locs and a protective style staple: distressed locs. In the same vein as faux locs, distressed locs have a bohemian appeal, but one major difference between distressed locs and Butterfly Locs is the curly loops that give them their signature look.
BButterfly locs are a cross of goddess locs and passion twists. The haphazard, bohemian appearance is airy, does not require maintenance, and is very natural. This style may be suited for those of us who prefer a style that evolves over time, doesn't require much effort to achieve, and embraces curls and coils while safeguarding our own hair.
Best Hair Suited for Butterfly Locs
There may be two types of hair you need, depending on the length of your natural hair and how long you want your locs to be. It will require roughly 6-8 packs of some type of water wave hair in 22-28 inches if you want locs that aren't longer than your own hair. You'll get Butterfly Locs with curly, bouncy hair that has the characteristic loops that make them unique.
You'll need filler hair if you opt to go with locs that seem to be longer than your natural hair. Alternatively, you can also buy more wavy hair for that purpose and use it to fill in the locs. Then you can wrap the braid around the wavy hair.
But many tutorials use Marley hair to make an individual braid. This can be done by braiding the marley hair into your hair until the length you desire is achieved.
Most hairdressers generate 40-50 locs, so make sure they're not too heavy. Compared to the giant locs seen in shorter styles, longer versions have thinner locs. This aids in reducing hair weight and, as a result, scalp strain.
What type of hair is good for Butterfly Locs?
You may require two types of hair, considering the length of your natural hair and the length of your locs. Ideally, you should have locs that are no longer than your own hair, so you will need roughly 6-8 locs packs of some type of water wave hair in 22-28 inches. Butterfly Locs are characteristically curly and bouncy, which gives them their name.
Filler hair will be required if you choose locs that are longer than your own hair. Ideally, you can load the locs with wavy hair as well, and you can purchase more for that reason. However, several tutorials use Marley hair to construct a singular braid, which is then wrapped with wavy hair. Braid the marley hair onto your hair until the proper length is reached.
How to do butterfly locs DIY
You can apply Butterfly Locs using many different methods, but no matter what method you choose, you should first soak your purchased synthetic hair (if you purchased it) in an apple cider vinegar rinse. Vinegar mixed with water is usually a good mixture. Soak the hair for a few hours, then rinse thoroughly.
How to do Butterfly Locs with Braid and Wrap Method step by step?
The Butterfly Locs can be achieved in a variety of ways, depending on your skill level, time, and patience. The great thing about Butterfly Locs is anybody can achieve a beautiful result. Most people will take 3-6 hours to complete this style. But if you have long hair it will take more time to do it.
Step 1: How to Twist or Braid hair?
You can braid or twist your hair according to a pattern and use Shine and Jam on the edges to keep the parts neat. Rubber bands can be used too, but they are optional. (Be sure to braid in the Marley hair at this point if you are adding length or braid in the waves as The Chic Natural does in her tutorial.)
Step 2: Preparing Water Wave hair
Depending on how fast you are going, you may do this as you go, or you may do it all at once. Take two pieces of the water wave hair and separate them. The result should be fluffy, but relatively intact.
Step 3: Water Wave hair is Crocheted into the Braid's base.
You should insert your crochet needle through the base of your braid, by your scalp. Take the separated hair from a water wave and place it in the needle's hook; close the needle and pull it through less than halfway. Wrap about 3/4 of the water wave hair on one side, as in the faux loc technique, this is very similar to the way the box braid extension goes under the faux loc.
Step 4: It's a Wrap time
Wrap the shorter piece of the water wave hair around your braid and hold it in place. Wrap the longer piece around the braid and the short piece against it a few times to ensure it is secure against the scalp. (keeping the style neat for a longer period of time). But do not apply too much tension when wrapping. The thumb technique will create the loops as you wrap.
You can be messy when you're wrapping the hair, don't worry about it being tight or controlled. The beauty lies in the loops and fuzziness of the locs. As these locs grow, they also tend to look better, so embrace the frizz as they get older, and the messier the better.
Thumb Technique to Create Loop Wraps
When wrapping the water wave hair, start by wrapping one end loosely around your thumb and continuing two or three times. By doing this, signature loops will be added to the loc. There are stylists who recommend wrapping the hair three times, inserting the thumb to "pick up" a small amount, and then transferring it back to the wrapping section.
Step 5: Seal at the End
The loc must be closed off and the ends sealed once you reach your desired length. If you want to create a water wave effect, create a small loop of hair with your finger at the end, and then wrap the remaining hair back up the braid until you run out of water wave hair. To add extra hold, you can apply nail glue as you wrap the remaining inch or two. Putting a loop at the end of your locs is crucial, as it keeps the loc in place and gives it a nice finish. Be careful not to burn the ends.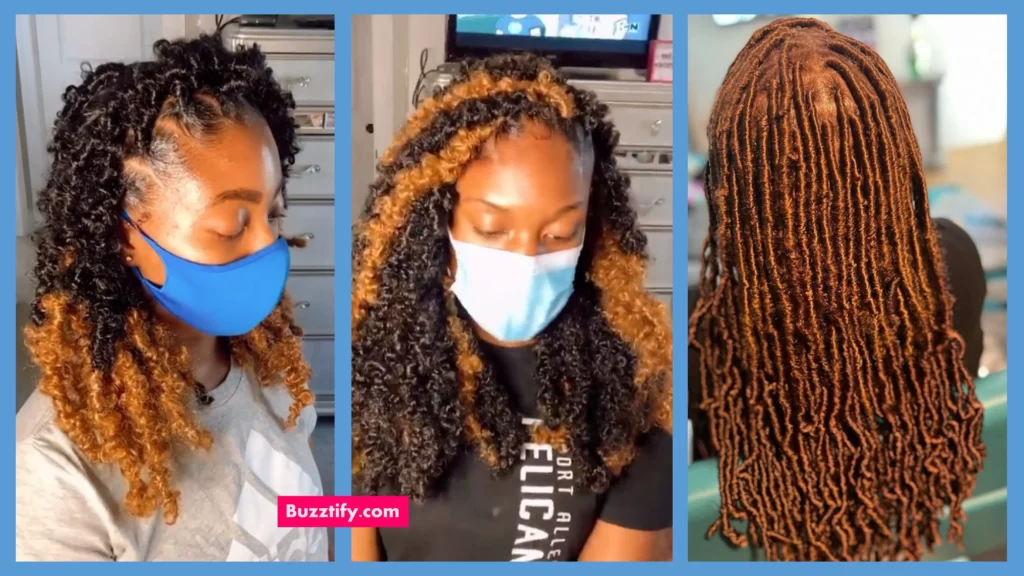 Read More – Mousse for Braids: Best Styling Mousse & its Benefits
Butterfly Locs Crochet Method
I suggest you cornrow down your hair, but leave the front and back out to add individual braids. This will allow your style to be versatile if you're more comfortable with the crochet method, which takes less time.
How to Maintain Butterfly Locs?
To have a protective style, you must have a well-maintained style and keep your scalp healthy. If you choose this style, you will need to wash, deep-condition, and moisturize your hair before installing the locs, and you will need to periodically maintain the style.
Make sure your scalp is clean and moisturized by massaging it with oil.
To give a "finished" appearance to your Butterfly Locs, use mousse to keep flyaways at bay.
The hair may need to be re-wrapped here and there, and the edges may need to be controlled.
Read the blog on Best Styling Mousse & its Benefits
Can I Wash Butterfly locs?
Yes you can!!, Butterfly Locs can be washed, but you won't get a "real" wash since they're wrapped around your own hair. Because you won't have full access to your hair, most people focus on keeping their scalps clean while crocheting allows you more access to your own hair, but not completely.
In general, 4 weeks is a good guideline to follow when wearing these kinds of styles. You don't want to let your hair build up with oils and products, which can breed bacteria. Therefore, even though these styles (if properly maintained) can look great for at least four weeks, if you don't wash your hair for too long, you may end up causing your scalp and hair more harm.
Also, know you'll need to dry your locs thoroughly if/when you wash them. Your locs have layers of hair–a braid wrapped up in another braid–which means it's easy for moisture to remain in the hair.
It is important to maintain some level of cleanliness when you have locs in, so you should cleanse your scalp (this cleansing water works great) and use a dry shampoo for your butterfly locs. (Dark and Lovely Detangling Refresher Hair Spray with Aloe, 3.4 oz)
Can I Dip Butterfly Locs in Hot Water?
You don't need to dip the hair, the wrap and loop secure it on their own.
Butterfly hair is a carefree and bohemian hairstyle, so you don't have to be perfect to achieve a beautiful look. If you add hair as you go or if you make one too many loops, you'll still achieve a beautiful look.
How to Sleep with Butterfly Locs?
In order to avoid premature removal of your locs when you are asleep or natural hair, it's always best to wear a scarf or bonnet overnight. This will prevent frizz from wreaking havoc on your style. Satin pillowcases are also an excellent way to avoid premature removal.
Read More – What are Sisterlocks? Short Sisterlocks Care, Styles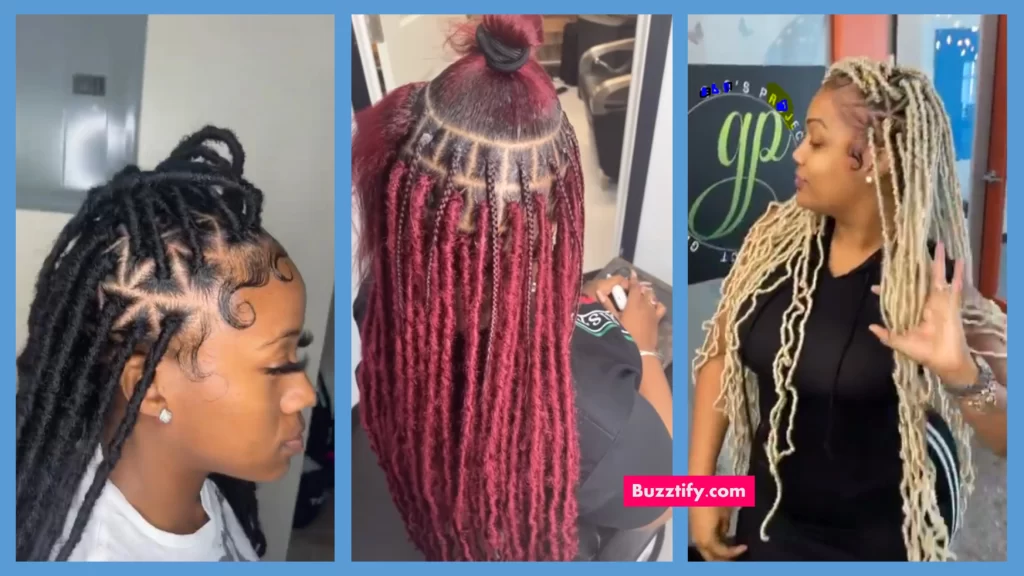 How long should you keep Butterfly Locs?
When properly maintained, butterfly locs can last for four to six weeks. Some say the style can last even longer, but it is not the healthiest option for your hair. Attempting to extend the style may cause your hair to become matted if you extend for too long.
FAQs
| | |
| --- | --- |
| Questions | Answers |
| How Much Do Butterfly Locs Cost? | If you decide to DIY them, you only need about $100 to get the full look. Butterfly locs range in price from $180 to $300 if you want an extended length. |
| Do Butterfly Locs Hurt? | Butterfly locs are not painful since they are done with crotchet, a tensionless method. |
| Do Butterfly Locs Tangle? | NO. If you remove your butterfly locs properly, they will not pull out your hair. |
| Why are my Butterfly Locs so Stiff? | If you do not apply mousse on your locs occasionally, this could be the reason. |
| How Long do Butterfly Locs Take? | Time is considered on your hair length, if you have short or mid hair length then it takes 3-6 hours but if you have long hair then it may take 6-7 hours for butterfly locs. |
Conclusion
Our general suggestion is to only keep protective styles for four weeks, especially if you aren't going to wash them while they are in. Patience is key when it comes to taking down your Butterfly Locs. It may take you some time to unravel your locs because you have to first unbraid the braids underneath.
Keep some oil on hand and a spray bottle to loosen any build up, and take breaks if you feel frustrated or tired. To remove your locs, you need to cut the end of the braid, unravel the hair, and pull it out.