Those who can't start their day with a cup of coffee are aware of how much a cup of coffee can boost their mood or get their day started. It is a well-known fact that coffee revitalizes and energizes one's mood, but did you know it can also do the same for your skin?
It is the end of summer, and we all have a horrible tan due to being in the sun. This season is well known for its side effects, which include patchy skin, uneven textures, dullness, burns, and acne. Take the coffee jar off the shelf and add it permanently to your skincare regimen.
Here are the reasons why you need coffee scrub for tan removal from hands and face at home.
These are some coffee scrubs shared below that have been proven to be safe for your skin and are backed by real studies. I have tried and tested for several months all the DIY coffee masks, I will be showing you today.
As for the benefits of the coffee, it is a powerful antioxidant that protects your skin from free radical damage caused by pollution. Trust me they show great results. It also plays a great role in skin regeneration, hence it is an effective ingredient in removing suntan from face and neck. It also helps in making your skin brighter and softer.
What are Coffee Benefits to Skin
Antioxidants found in coffee prevent skin damage caused by free radicals.
In addition to protecting our skin from UV rays, antioxidants can also reduce the ageing effects caused by UV exposure.
Caffeine helps tighten the skin naturally by stimulating blood flow.
By preventing moisture loss, fine lines can be minimized.
Provides skin with a fresh, spotless glow by removing sun-tan, acne, spots and pigmentation.
Cellulite appears on the skin less frequently with this treatment.
Knowing the many benefits coffee can offer your skin, let me show you how to make your own homemade coffee scrub and face mask for removing tan and brightening your skin so it appears more even, glowing, and bright.
Since all the ingredients in this scrub and mask are natural, you can use it regularly without causing damage to your skin, and it is suitable for all skin types.
Remember to wash your face first with a cleanser and then apply a scrub, followed by a mask. You may also want to do a small patch test on your face if you think you might be allergic to coffee or lemon.
How to make a Coffee Scrub for Tan Removal at Home
Ingredients
2 tbs of coffee powder

1 tbs granulated sugar

2 teaspoon of coconut oil
How to apply
All the ingredients should be put into a glass bowl, and they should be mixed well.
If the mixture has a thick consistency you may add some coconut oil.
Apply this mixture on your face and neck and scrub it in circular motions gently.
Scrub your neck and face for about 2-3 min.
Then wipe it with a wet and soft towel.
You can store this mixture in a glass container for about 2-3 weeks and you can use it 2 times a week.
Benefits of using Coffee Powder with Coconut Oil
The coffee powder will gently exfoliate the skin while removing dead skin and tanning layers.
The coconut oil will nourish and moisturize the skin.
It will help to keep the skin beautiful and bright.
Read More – How to Remove Blackheads with Hydrogen Peroxide Instantly
Coffee Mask for Face Tan Removal
1-2 tbs of raw milk

1 tbs of muller earth (multani mitti)

1 tbs of coffee powder

2-3 drops of lemon (optional)
How to Apply
In a glass bowl mix all the ingredients together.
Use a face pack brush if you don't have one. Use your hands (clean your hands first) to apply mixture to your face and neck.
Keep it for 10-15 mins or until it's completely dry.
Wash it off thoroughly with lukewarm water.
How to Use
In a jar, combine equal parts muller earth (multani mitti) and coffee powder; if you want to save it for later use, leave out any liquid ingredients. This mask should be used twice a week, after the coffee scrub.
Benefits
Milk hydrates and soothes the skin from scrubbing and bringing out its natural glow to the face and neck.
Muller earth cleanses, purifies skin from dirt and impurities, controls oil, reduces acne, removes tan spots.
Lemon is a natural bleaching agent and is high in vitamin C, that helps in getting rid of tan from face and neck quickly.
Before heading to bed, perform this skin care routine. Just make sure to follow up with a moisturizer or night cream and you'll have brighter, more luminous skin. Let me know if you want to share any other DIY skin care homemade treatments.
Coffee Scrub Products to remove Tan from Face and Neck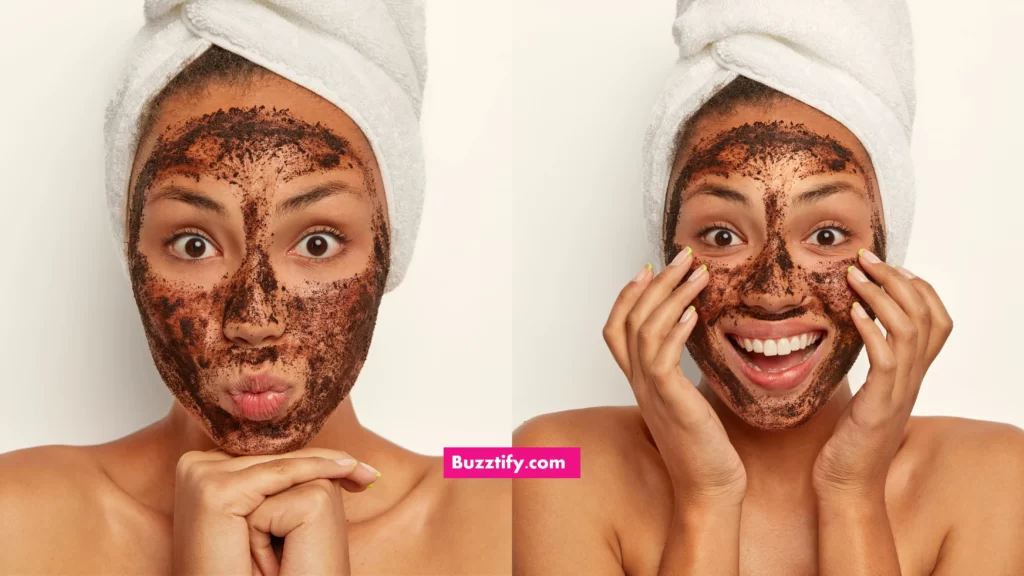 Natural substances are used to make this product: This face and body scrub packed with Walnut, Cold-Pressed Coconut Oil, Coffee, and Rock Salt.
This coffee body scrub polishes your skin, leaving it silky smooth and oh-so-soft. It's an excellent scrub for removing tans from the body and face. Any skin type is acceptable: normal, dry, oily, and mixed. Free of SLS and Parabens.
Benefits
Removes dust, dead skin cells, and pollutants from the skin in a gentle manner.
This ayurvedic combination moisturizer, nourishes, and polishes the skin.
Gentle exfoliant that clears and smoothes the skin.
It hydrates and illuminates the skin.
The raw coffee beans in this scrub clean and enrich your skin with natural caffeine, producing you a luminous glow on your face and body. In just a few minutes, you can improve your dry, dull skin! Organic coffee grounds, shea butter, and other essential oils exfoliate the skin, giving it a healthy glow.


Benefits
This coffee body scrub gently exfoliates dead skin, brightens and smoothes skin tone, and leaves skin hydrated and healthy. It aids in the treatment of acne, dark spots, and outbreaks.
This scrub brightens and rejuvenates the skin. It helps with premature skin aging, irritation, dryness, and flaking by boosting skin blood circulation.
This coffee scrub has ingredients that help to smooth and soften the skin's surface and successfully reduce the skin tan with this treatment.
How to use
To make a paste, combine some scrub in a small dish with rose water (for oily skin) or milk (for dry skin).
Apply the paste gently on a moistened body and face.
Gently rub the scrub into your skin for around 2-3 minutes.
Wash it and Repeat the process 1 or 2 times a week.
Read More – How to Choose the Best Face Serum For Your Skin Type