The most popular natural hairstyle these days is Sisterlocks, and it's easy to see why. There are many ways black women are rocking this hairstyle, from long to medium to short sisterlocks. This can help you get a feel for how your Sisterlocks will look like when they are installed on your hair.
Compared to traditional dreadlocks, Sisterlocks are much easier to maintain and style. Although you cannot install them at home, you can do them yourself once you have completed the Sisterlocks retightening course. This type of style has many benefits, including looking amazing and making your hair look healthier.
There are different types of sisterlocks, which can either be starter locs or full locs. When they're installed, they're smaller and less noticeable than dreadlocks. Those curious about Sisterlocks wonder if they can be undone, and the answer is yes, but you should comb them out before six months.
Take a look at some of the coolest sisterlock styles out there and step up your game. From braids, twists, and coils, to waves and curls, there is no end to the ways to style your hair! Here are some ways to show off your Sisterlocks.
What are Sisterlocks?
The Sisterlocks style is a professional hair locking style that has been used in salons for years and has been popularized by celebrities such as Beyoncé Knowles, Kim Kardashian, Alicia Keys and many others.
This style is used to achieve long lasting locks that are easy to maintain. The style starts with a retightening course of treatment (which can be done at home) which lasts anywhere from 8-20 hours or more depending on the client.
Once this treatment has been completed it will take approximately 6 months for the sisterlocks to fully mature and lock into place. Once they are mature you will only need to get them retightened once every 6-8 months depending on how fast your hair grows.
The sisterlocks are much easier to maintain than traditional dreadlocks because they look amazing even if you don't get them retightened after the initial treatment, unlike dreadlocks.
Sisterlocks vs Locs
Sisterlocks and locs take different amounts of time to maintain. You can expect the first time you loc your hair that your appointment will last 2 hours or more, depending on your hair length, thickness, and the overall look you hope to achieve.
On the other hand, sisterlocks can take up to 36 hours to install due to the patented latch hook tool that is used to weave the hair together. Sisterlocks do not require hair products when installed on small sections of hair, unlike locs that require wax to twist larger sections.
More than 400 locs can be created by this precise and time-intensive process, and that is why your initial Sisterlock session costs about $500 and goes up to $800. (Depending on the level of the consultant or its skill level, it can cost more).
With locs, you can begin with braids, two-strand twists, or palm rolls. During your Sisterlocks session, your consultant will use the tool to place a few locs to determine which pattern will work best for your hair type. Locs and Sisterlocks have one thing in common: how you care for them after installation influences how well they mature!
A follow-up appointment is normally advised 2-4 weeks after the initial treatment; retightening sessions are done every 4-6 weeks and normally take 3 hours at a cost of $100 per session. If you stay with that consultant for 6 months, they will give you a retightening workshop where you will learn how to conduct all of these services yourself!
How should I take care of my Sisterlocks after my 1st appointment?
But between re-twisting sessions, cleansing your hair is essential. This process will be different from the shampooing method you're used to because of slippage (or when the hair begins to unravel and frizz). Be careful until all of your locks are matured – it can take up to a year before they "settle". Until then, make sure that you're gentle with them or else they might fall out! Processes like bundling, braiding and banding Sisterlocks are common practices wearers use on wash days.
CeCe Olisa, a blogger who began her Sisterlocks adventure in 2014, offers two more Sisterlocks haircare product recommendations on her site. She uses rosewater to add gloss and moisture to her hair, as well as a saltwater spray to help it lock in quicker.
Locsanity Rosewater and Peppermint Moisturizing and Tightening Spray Mist
Herbivore Botanicals Sea Mist Lavender Sea Salt Spray
Furthermore, when your locks grow, the eponymous Sisterlocks shampoo is recommended, as the formula was designed specifically for the locking process.
Lion Locs Sisterlocks Shampoo


Sisterlocks is a hair care method for braided African American women, but it's not just about the hair. What really draws people to Sisterlocks are the sisterhood and sense of community that come with this type of journey. There are many forums, communities on Instagram or YouTube as well as real-life groups who can help you through your growing process while providing an enjoyable experience every step of the way!
Read More – Mousse for Braids: Best Styling Mousse & its Benefits
Sisterlocks installation – Cost – Requirements
Due to the proprietary latch hook equipment that is used to weave the hair together, Sisterlocks can take up to 36 hours to install.
The installation of Sisterlocks does not demand the use of hair products.
Depending on the hair specialist, a Sisterlocks session might cost anywhere from $500 to $800.
After 2-4 weeks of first treatment, a follow-up appointment is recommended.
Retightening treatments are typically performed every 4-6 weeks and last 3 hours, with a fee of $100 per session.
Sisterlocks Pros and Cons
Choosing between traditional or sisterlocks can be a challenge for most people. The sisterlocks style is both a lifestyle and a hairstyle. Before you do something and regret it later, you should be aware of their pros and cons. Here we will look at their advantages and disadvantages.
| | |
| --- | --- |
| Pros | Cons |
| It is possible to have a certain level of versatility with sisterlocks. Compared to other locks, sisterlocks are somewhat thinner and can give the illusion of fuller hair. Sisterlocks can be styled in an infinite number of ways because of their thinness. Use your creativity and try out different styles. | Sometimes it can be boring to have the same haircut for months or years. Taking your time is the best way to decide how you will deal with such feelings. |
| Rain is not a problem when you wear sisterlocks. Women who wear sisterlocks are usually afraid of rain since it damages their hair. Fortunately, they can be easily washed even when rained on. You can also re-tighten your hair every month, so you don't have to worry about going the extra mile to care for it. Sisterlocks eliminate the need for hair treatments | You have a tough time finding someone competent to guide you on your hair journey. People tend to make mistakes early in the process that cost them a lot later. It's rare to find a consultant who advises you how to maintain the health and strength of your sisterlocks. |
| To look good, you don't need many products. The best way to keep your sisterlocks looking good is to keep them clean and apply less products. Avoid relaxers if you can. Natural products will keep your sisterlocks looking great. | The first time you do something, you might spend a lot of money. Depending on the size, you may spend $100 for the first session of retightening and $250 for a official retightening. |
| When compared to most other hairstyles, sisterlocks are reasonably cheap to maintain. Less products are needed and less treatments are necessary. | |
Sisterlocks Extensions Types and Costs
Human Hair Sisterlocks Extensions 10 inch, 8 inch, 12 inch, 14 inch, 16 inch, 20 inch


Sisterlocks Hair Extensions Dread 10 inch, 6 inch, 16 inch


Sisterlocks Dreadlocks Extensions 8 inch, 10 inch, 12 inch, 14 inch


Styling Sisterlocks Short & Long
Mohawk Hairstyle
Sisterlocks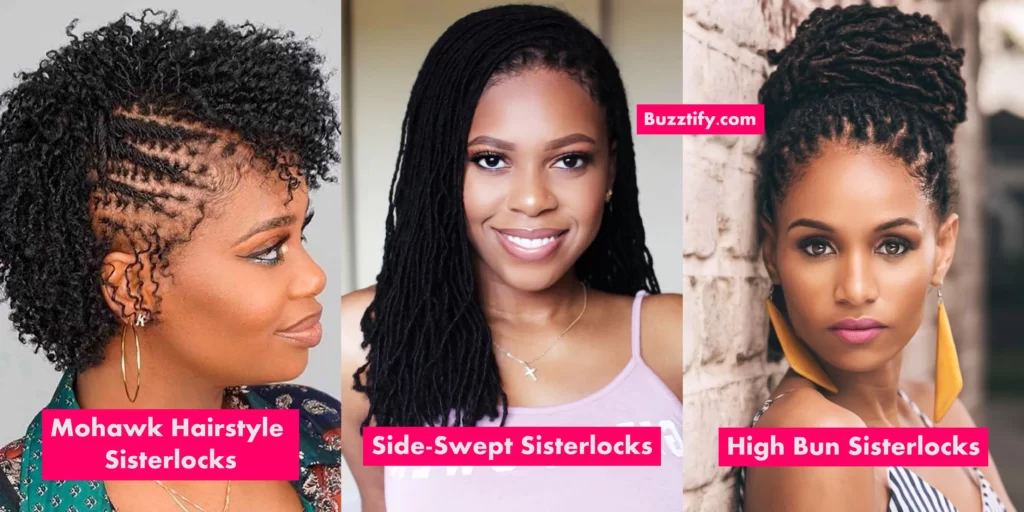 Sisterlocks Into
Half-Up Roll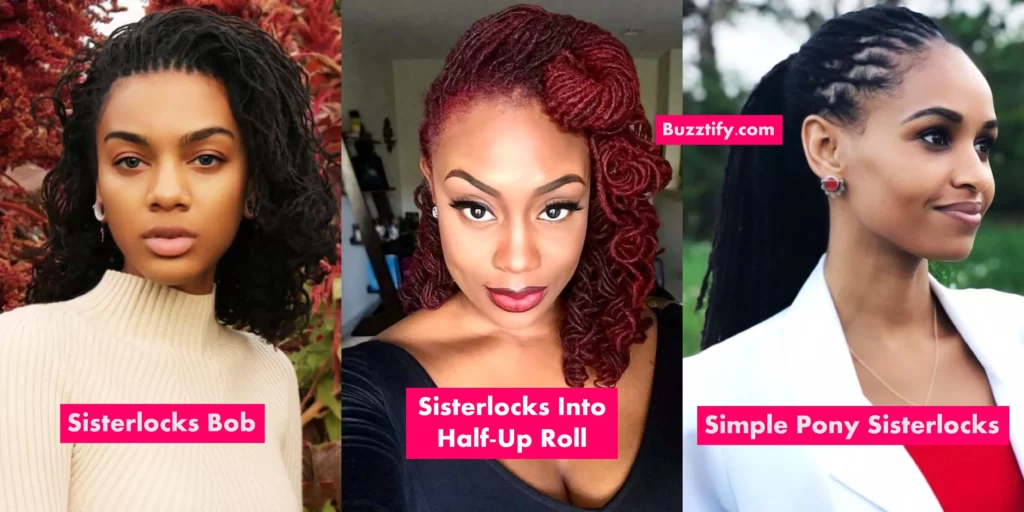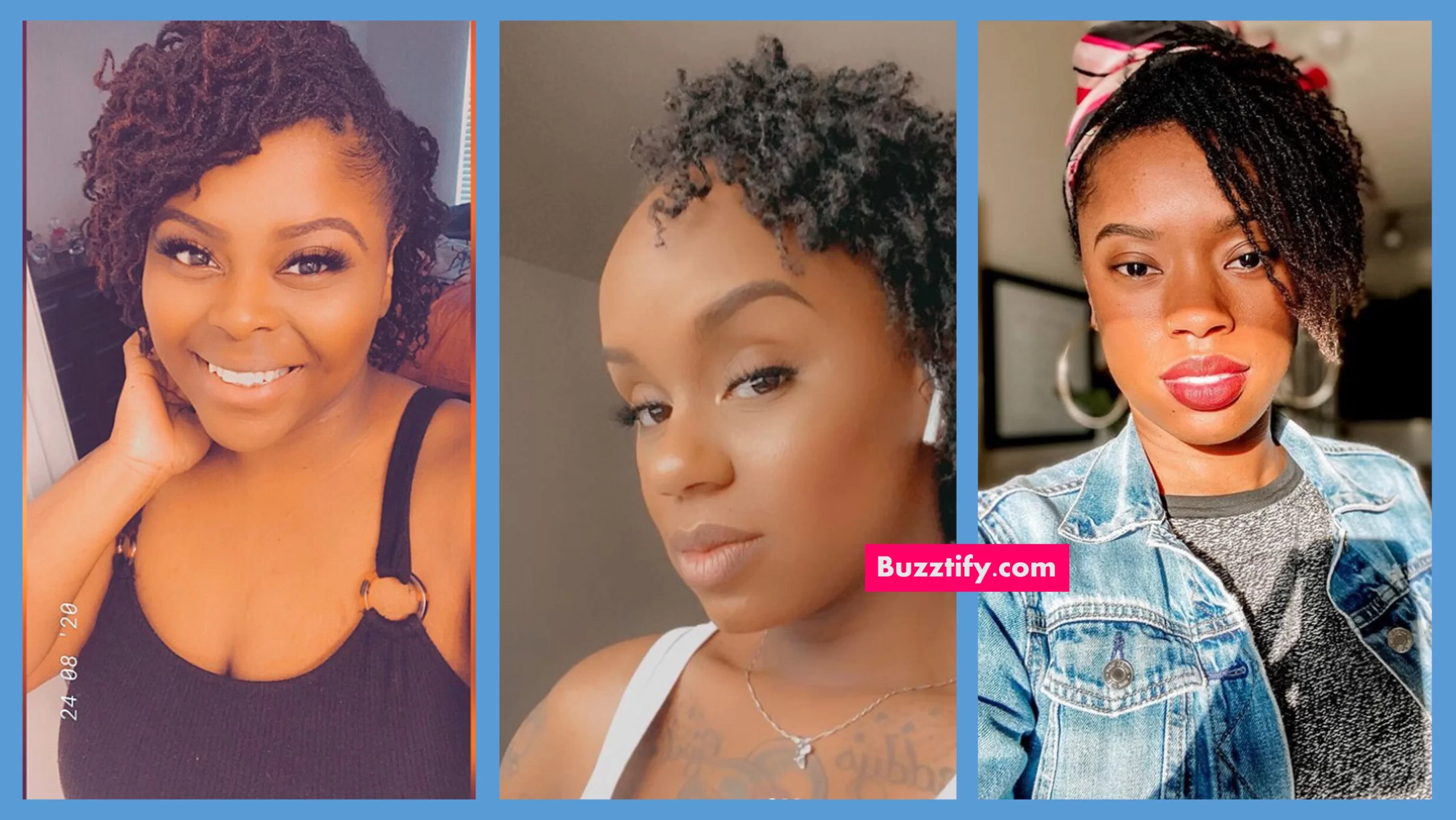 Read More – Best Product to Retwist Locs & How Often Should You Retwist Locs?