Have you ever wondered between gel nails and acrylic nails about which one is more clear? You will want clarity in your nails if you want something like writing or embedding a specific type of design. But, which one of these are you going to get?
Which one would be better for you, and which one would serve the most purpose than the other? This article discusses a detailed comparison between Gel nails vs Acrylic nails.
Gel Nails vs Acrylic Nails
Most people (women) love long-lasting nails, but which one would you go for to provide that? Different people would have different opinions on this, and it should be because not all would experience the same kind of experience. But, even though you opt for gel nails or Acrylic, they should not damage your natural nails, which should be a significant consideration for most people.
What do Gel Nails and Acrylic Nails mean?
Gel nails and Acrylic are nail enhancements done in place of your natural nails. This is done to create a designing, innovative, personalized look on your fingernails. In other words, it is a fashionable way of giving your nails a different look externally.
Gel nails and Acrylic may have a similar purpose, but they differ a lot. These differences are enough to let people choose the best way to design their natural nails and give them a dashing look. Well, the table mentioned below will provide you with an idea about which mode of developing your nails you should go for.
See Also: Nourishlash Reviews 2022
Gel Nails vs Acrylic Nails Comparison Table
Gel nails and acrylic nails have been distinguished, considering the various factors for their distinction. With the help of the table mentioned below, it would be easy for you to get an idea about which type of nail enhancement treatment you should go for. The basis of distinction also explains a few pros and cons (gel nails and acrylic nails).
| | | |
| --- | --- | --- |
| Basis of Distinction | Gel Nails | Acrylic |
| Meaning | A type of nail enhancement treatment done in place of the natural nail. | A type of nail enhancement treatment done in place of the natural nail. |
| Acrylic vs Gel nails cost | Bit expensive when compared to acrylic | Acrylic seems to be generally a cheaper method |
| Appearance | It gives a beautiful yet natural-like finishing | Acrylic nails, on the other hand, may not look as natural as Gel nails. |
| Longevity | Gel nails tends to work fine for at least 2 weeks | Acrylic nails, on the other hand, tend to last longer than gel nails |
| Curing time | Gel nails do have a faster curing time. No light gels are required for its cure (cured under UV light). | Acrylic nails have a slower curing time. Acrylic liquid and powder should be applied |
| Usage information | Can be applied with or without a primer. In case a primer is applied then there would be less chance for the nail getting damaged. | Should be properly applied in the correct quantity. Direct skin contact needs to be avoided to reduce the risk of an allergic reaction. |
| Flexibility | Gel nails tends to be softer and more flexible | Acrylic is not as soft and flexible as gel nails |
Read More – How To Increase Density of Hair Naturally
Gel Nails vs Acrylic Nails Major Differences In Application
From the above table, you might have got an idea about how each nail styling method differs from each other. Acrylic nails require primer techniques or a glue-like substance to be done properly before putting on an artificial nail on top of the existing nail. But, since there is the presence of chemicals in this process, one needs to avoid direct skin contact.
Gel nails, on the other hand, are easily cured with the help of UV light. There is no requirement for light gels and can be applied with or without primers which gives a major advantage to users. However, if a primer is applied correctly and correctly, the nail bed remains healthy.
Gel nails seem to be a much more user-friendly option than Acrylic as it has got much more advantages than disadvantages. Even if you do not use a primer before getting gel nails, there would be no hard impressions left behind.
While, on the other hand, for getting acrylic nails be careful to use primers as it may leave a stiff appearance.
Seeking professional help would give you the best results for both these nail enhancement treatments. Overuse of primers and other liquids may not be the correct thing to do and may ultimately damage your nail bed and leave a permanent impression on the nails. Make sure that you do not keep your nails exposed to water for a long period as this would lead to fungal infection.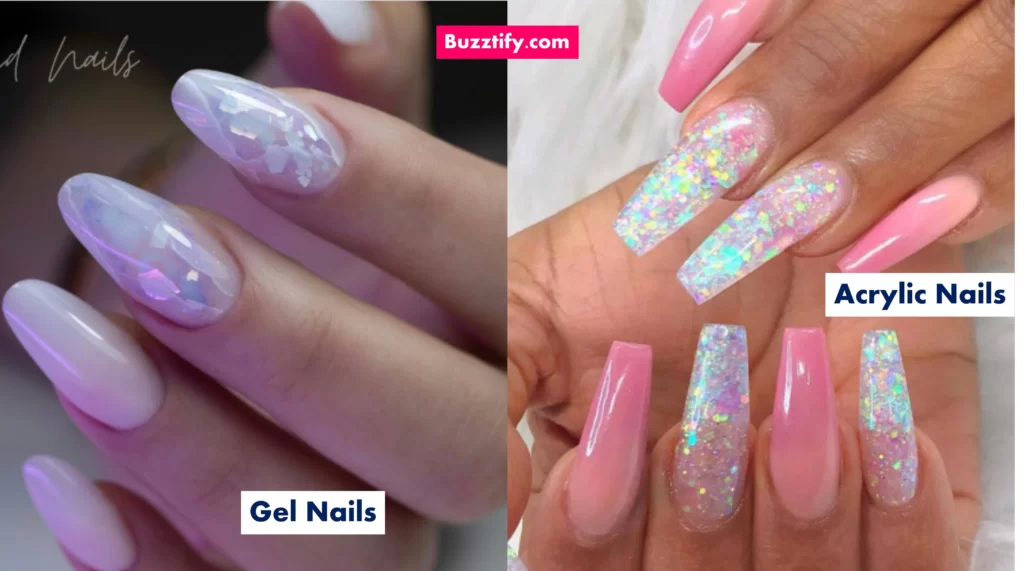 Cons Of Gel Nails and Acrylic Nails
1. Gel nail disadvantages
The gel polish may have shown concern among people about an increased cancer risk. Harmful chemicals in products like usage of benzene have been proved to have been the reason for the development of blood cancer.
The gel nail treatment may lead your nails to become thin. Soft nails occur because of overexposure to moisture or even chemicals, for instance. But, if you have had a medical history of Vitamin deficiency, then that would be a separate issue.
Infections may occur only because of overexposure to chemicals to the skin. Infections, when turned worse, may lead to cancerous cells, which is yet a major drawback for using gel nail treatments.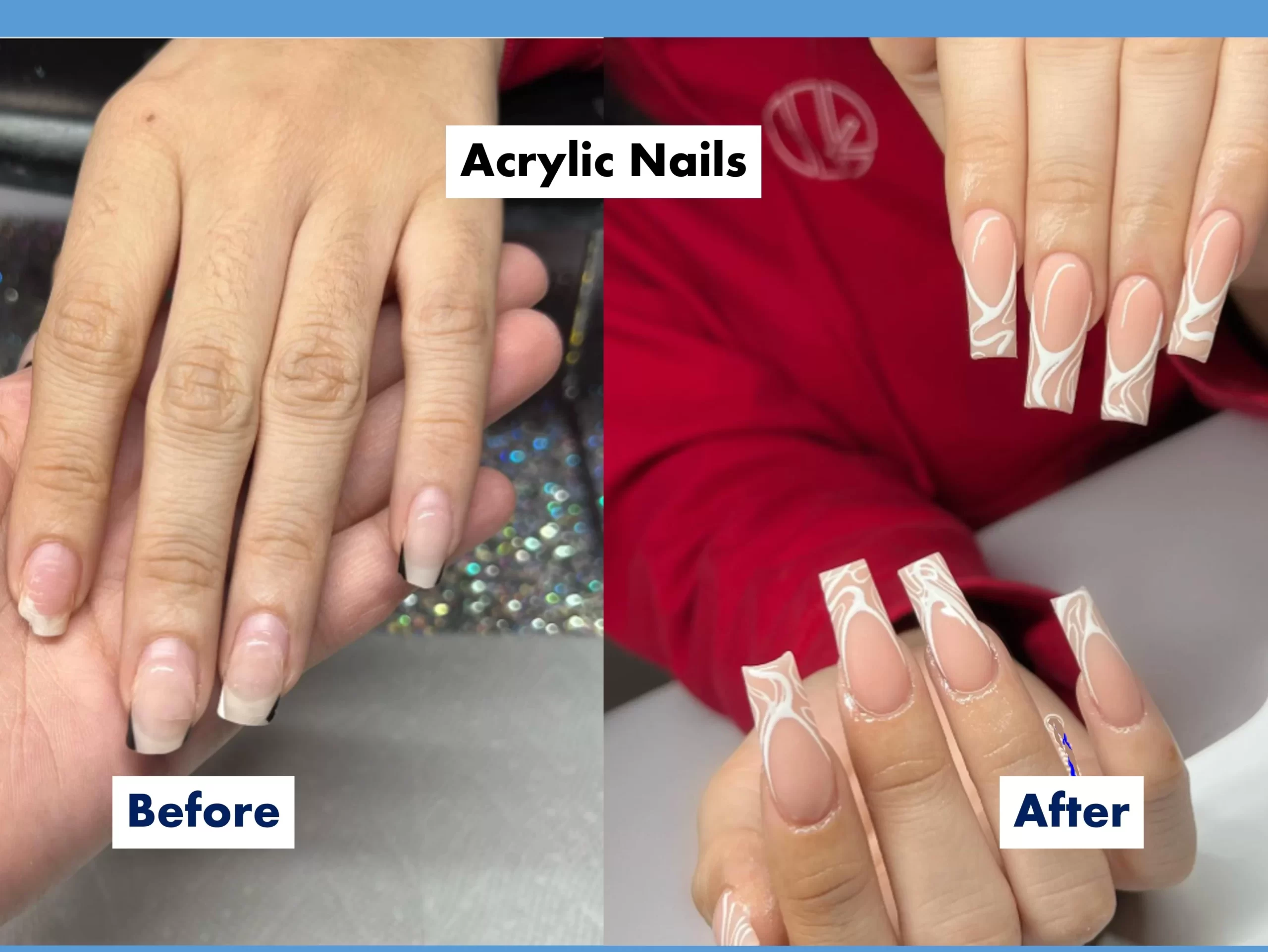 2. Acrylic Nails Disadvantages
May Damage Natural Nail Blends
The natural or pre-existing nail may be damaged only because of improper usage of primers and other such kinds of things. A temporary treatment like an acrylic procedure should not be the reason to damage your natural nail blends.
One of the most significant disadvantages of acrylic nails is that they do not look natural. People tend to get frustrated as the unnatural look is exposed. On the other hand, Gel nails have got a natural look finish.
Unpleasant Chemicals & Fumes
There are different types of chemicals used in the process of getting acrylic nails done. The substances are not at all friendly and people are advised to avoid direct contact. The smell of such chemicals does not smell great, too as complained about by most users.
Frequently Asked Questions
Are gel nails or Acrylic better?
Gel nails are responsible for offering a natural yet glossy look, whereas Acrylic is more sturdy and durable but provides a less natural look.
How long do gel nails last?
Gel nails may last for about two to three weeks. But, they usually last for about not more than two weeks.
Final Verdict
Both of these procedures for nail enhancement have shown possible drawbacks for people. So, it would be a difficult choice for you if you are looking for a safe option for getting your nails done. Until and unless you give them a try you will not be able to see if gel nail extensions and Acrylic claims to be are actually true or not. However, even if you are doing gel nail extensions, you may experience some peel-offs, but you will not feel your nail is brittle.
Read More – 7 Best Moisturizers for Dry Skin in Winters