Every girl's dream is to have thick and voluminous hair. To make this possible you must invest your time money in various hair care products from essential oil to shampoos, hair masks to serums.
Before jumping on to treat your hair, know the science behind your hair, and how you can increase density of your hair naturally.
What do you Mean by Thick Hair?
Hair density and the number of hair follicles are referred to as thick hair. However, some of us always get confused with coarse hair, coarse hair is naturally textured hair that some ethnic group has. Dermatologist says that these coarse hair looks like it has thickened circumference, but they are not rough.
The average thickness of hair is around 0.0762mm to 0.127mm, anything less than this level is considered thin hair, while anything more than this standard is considered thick hair.
What are the Causes of Hair Thinning?
Thinning hair causes can be considered as below.
Strong hair products
Genetic
Medical conditions
Chemicals
No or poor diet
Aging
Why am I Losing my Hair Thickness?
If your androgens and DHT become weak they shrink your hair follicles resulting in follicle miniaturization. You will lose your hair thickness if you are having a hormonal imbalance.
Aging gradually damages your stem cells, therefore turning your hair follicles into the skin. Although this process takes a long time, in the meantime your hair follicles are being thinned.
Inheritance is not something that can be blamed, but it can be dealt with.
The hair that the miniature follicle produces loses its density. If most of your hair follicles are miniaturizing, you'll notice your hair isn't as thick as it used to be. To answer most of your question can thin hair becomes thicker? Find out below procedures to make your hair thick and strong.
How To Increase Density of Hair
You can increase the density of hair by opening miniaturizing hair follicles. There are certain ways to do this, you need to reduce the number of your stem cells, with operational stem cells, follicle shrinking can be reverted.
Blood vessels provide nutrients to hair follicles. They also have complex relationships with your hormones.
The key to opening your hair follicles is to stimulate blood flow in your scalp. Hormonal balance supports stem cell renewal by regulating metabolism.
So far, we have seen the causes of hair thinning, let us see what makes your hair thicker?
Hair Care Routine for Thicker and Fuller Hair
If you follow this routine it will make your hair grow faster and fuller.
If you are having dry hair, then you can apply organic coconut oil daily and wash once a week. For those who are having oily hair, you can apply it 1 hour before when you are going to take a bath from your head.
You need to comb your hair in the morning and before going to sleep with a wide teeth comb.
Do not forget to massage your scalp with essential oil and carrier oil.
Eat food that gives you protein and nutrients.
Do not leave your hair loose, always remember to tie it up.
you use herbal shampoo to wash your hair.
Use a good herbal hair mask once a week to strengthen your hair.
To relieve tension and absorb vitamin D for hair follicle regeneration, practice yoga in an open space for fresh air that is exposed to the sun.
Read More – Homemade Tips for Silky, Shiny & Smooth Hair
Use of Essential Oil to Grow Thicker Hair
Essentials oils are extracted from the medicinal plants with a unique process, and these are highly concentrated oil.
Expert Tip: Do you know peppermint oil was proven to be more effective than minoxidil at activating hair follicles. (source)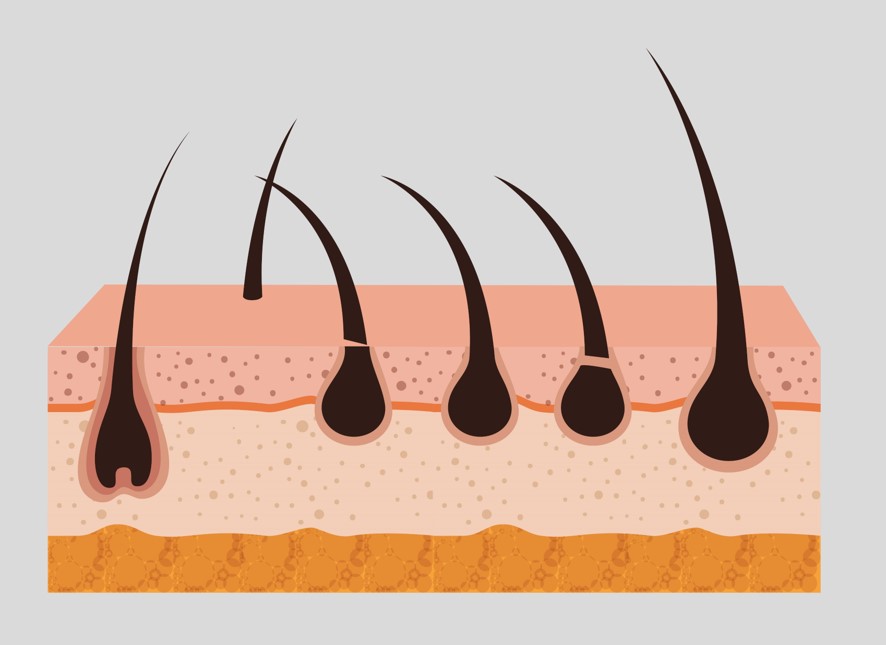 Here I have listed down all the essential oils that are good for growing strong and thick hair.
There are good essential oils for thickening hair that includes lavender oil, peppermint oil, rosemary oil, tea tree oil, cedarwood oil, lemongrass oil, clary sage oil, ylang ylang oil, and thyme oil.


Procedure to Use Essential Oil to Grow Hair Thicker
Get your regular carrier oil like coconut, almond, sesame seed, or olive oil and mix 2-5 drops of essential oil in it.
Apply the solution to your scalp with your fingertips and massage well. Massage your scalp with your fingertips to relieve tension.
After applying to your head relax for an hour.
Wash your hair with herbal shampoo to get the effect of essential oil on your scalp.
You can try doing it with other essential oil when washing your hair.
Note: Do not consume essential oil directly. Always remember you should do a small patch test on your skin (like on your hand) before applying it to your scalp.
How Hair Mask Helps Make Your Hair Thicker?
An herbal hair mask should be used as it penetrates deeper into your scalp and nourishes the hair follicles also hydrate your hair strands from bottom to top. The herbal mask is good for your hair as it helps your hair to last longer and makes them stronger and lustrous.
Let us see how to make the hair mask for hair.
Hair Mask with Fenugreek, Amla & Shikkakai
Ingredients: Amla, Skikkakai, Lemon, Fenugreek seeds, Curd
How to Make
Take 2-3 tablespoons of amla paste and marinate it in the fridge overnight.
Add 1 tablespoon of shikkaki powder to the marination.
Add 1 tablespoon of soaked ground fenugreek seeds.
Add a whole lemon juice to it.
Add Curd to make it a thick paste like structure and mix them well.
Now you are ready to apply the hair mask like you apply your henna.
Keep it for an hour and then rinse it with normal water.
Benefits of using Fenugreek, Amla & Shikkaki
Fenugreek contains lecithin and nicotine, which aid in the development of follicles.
Shikakai is rich in a multivitamin that boosts your hair growth.
Amla contains vitamin C that helps in developing your hair follicles.
Lemon juice helps to keep off antioxidants.
How to Make Brahmi & Ashwagandha Hair Mask
Ingredients: Ashwagandha powder, Brahmi powder, Milk
How to Make
Take 1 tablespoon of ashwagandha powder & add 1 tablespoon of brahmi powder.
Take some amount of milk to make a paste like structure.
Make sure to apply the mask fully from top to bottom to your hair.
After an hour wash it with lukewarm water.
Egg Mask for Healthy Hair
How to Make
The egg is blessed with a lot of proteins, and proteins are essential for our hair. If you want to make your hair stronger you apply the hair mask to your hair.
Take 1-2 eggs whisk it for a while make it thick.
Dampen your hair and apply the past and keep it for 30 min.
Wash your hair with lukewarm water and a regular shampoo or herbal shampoo.
Banana Mask for Voluminous Hair
Bananas include nutrients that aid in collagen formation, making your hair thicker and stronger.
How to Make
Take 2 tablespoons of olive oil and add one mash ripe banana.
You need to mix it well till it becomes thick like a paste.
Then take the Mask and apply it on your hair & scalp.
Wash it after 30 min with regular water that you take for a bath, you can apply conditioner too.
Following Rich Diet
Hair thinning can be prevented by eating a well-balanced diet rich in healthy fats and proteins. Foods like fish, eggs, walnuts, almonds, yogurt, legumes, and green leafy vegetables are all good for strengthening hair.
Also, these foods are good to increase the density of your hair fenugreek seeds, amla, and curry leaves, as well as eggs, peanuts, peanut butter, spinach, pumpkin seeds, sunflower seeds, flax seeds, almonds, sweet potatoes, fenugreek seeds, and flax seeds.
You can consume supplements in your diet. Supplements like B5, B12, Biotin, zinc, iron make your hair strong and thick.
How To Wash Hair Properly?
If your hair consists of dyes from hair products and chemicals build up on your hair using hair products, then you can remove them by following a proper method to wash your hair.
Make your hair wet with warm water.
(Mix your shampoo in water) Massage the shampoo into your scalp and hair carefully.
Follow the same process twice, after you wash your hair with cold water.
Use conditioner later.
Wash your hair to remove the conditioner.
Use a soft cloth to dry your hair, and then use a gentle serum.
My Thin Hair Become Thick Again?
If your hair is thin genetically then there is no way that you can get thicker hair with those methods. But if it has happened due to some chemical used on hair, harsh hair products, or poor diet then all the above mentioned methods can get you dense hair.
Conclusion
While your hair follicles cannot instantly change, you can surely make your hair look thicker and healthier by using the strategies listed above. Avoid using any of the components listed above if you have an allergy to them. An underlying issue could be to blame if you experience unexpected hair loss or thinning. In such cases consult your hair specialist.
Read More – Dominican Blowout vs Silk Press Hair Straightening