We all have trouble distinguishing between different products and tools, like curling irons and wands, or recognizing the differences between toners and essences. Even beauty aficionados mix things up. The difference between flat iron vs silk press is another confusing hair-related terminology.
Although the nuances may seem small, it's always crucial to understand the purpose and characteristics of something before implementing it – especially when it comes to beauty.
Many of you may wonder if there is any difference between a silk press and flat iron. Since they appear to be quite comparable to just straightening the hair. However, the answer is Yes there is a significant difference between Flat iron and a Silk press on the inside.
The main difference between one and the other is that one is a tool, while the other is a treatment. There is more to a flat iron than its name implies, and its abilities go beyond just straightening hair. There is a mechanism you probably already have at home that straightens out, curls, waves, and crimps your hair.
Silk pressing, on the other hand, is a method or technique that uses a flat iron, and is typically done in a salon. The process incorporates a variety of steps and is mainly used to transform naturally curly or coily hair into straight hair.
Silk press have been around for years, but the term comes from a play-on-words: using combs to press hair and to watch hair transform from coily to silky in one sitting without using chemicals. Let's see in depth what are the main differences.
Flat iron vs Silk press: Real Differences
Silk Press Ironing Overview and Tools
The term "silk press" refers to a process. That's not a tool or a piece of electrical equipment. We do silk pressing to give our hair more silk and luster than straightening alone. Before starting a silk press, there are a few extra techniques that must be followed.
Remember to apply conditioners, multivitamins, shine serums, and weight-retention sprays before the silk press. This is a comprehensive method that may help your hair stay silk straight, movable, manageable, and beautifully defined for an extended period of time.
You will need to spend some extra time and money to get a silk press. However, it will be ideal for women who are concerned about their rough, knotted, and frizzy hair. A flat iron is used to do a silk press. There is no additional gadget that is used in this procedure.
Most appealing feature of the silk press is that it does not require the use of relaxers. Hence there is no risk of hair damage because of permanent rebonding.
A silk press procedure with higher heat is used to achieve full, creamy, smooth, and shiny hair. When opposed to straightening, this heat prevents the hair from becoming wavy for a longer duration.
We just heat the flat iron to our desired temperature for straightening our hair. We periodically straighten our hair somewhat so that our hair does not lose its inherent texture and kind. We sometimes overheat the iron simply to get some waves in our hair.
But when going to press the hair with the silk pressing technique, we must heat the iron to the maximum. We have to iron our hair many times with an iron to get the desired results.
The addition of a balm, a shine serum, and some holding spray are all its accessories. They help to complete the silk pressing process well.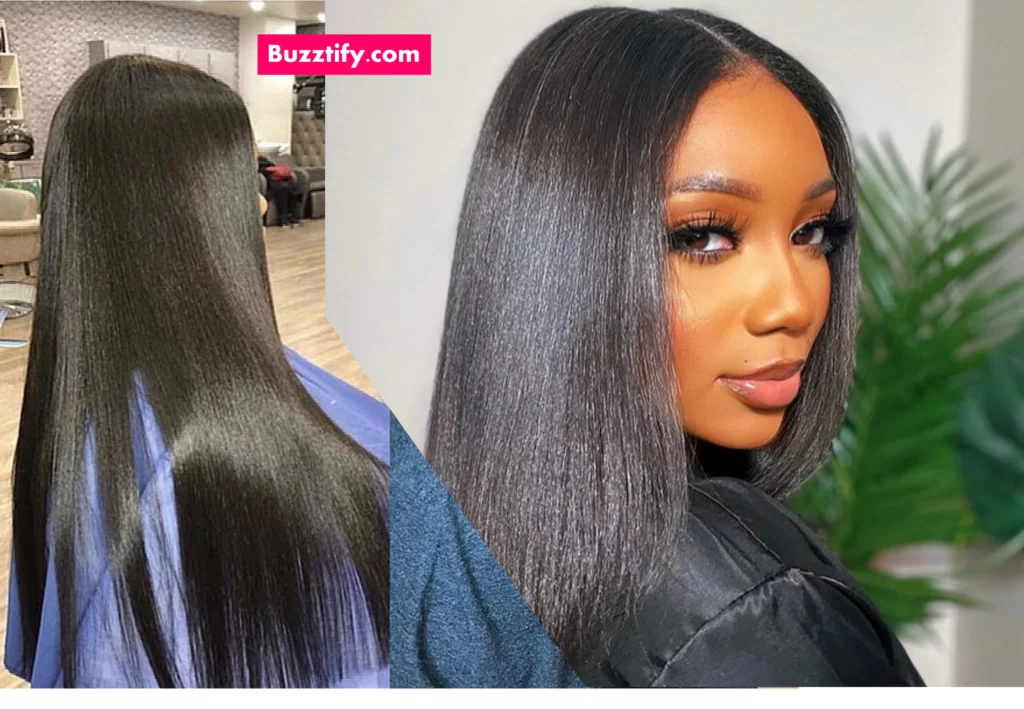 Flat Iron Process for Hair
To straighten your hair with a flat iron, you must use a straightening machine. You may use it according to your preferences. You can change its heat according to the kind of hair you want straightened. Mixing flat irons and silk press is not a good idea. In the first case, hair is straightened while in the second, it is simply styled.
The hair straightening flat iron typically has two plates. Each plate is made from a different material and comes in different sizes. In order to satisfy the needs of customers, different companies use different materials and heat ranges.
In the end, a flat iron is primarily a styling tool used for both straightening and silk pressing. Each procedure is carried out differently. You will get a flat ironing tool in different sizes and shapes.
You simply heat it according to the nature of your hair and then straighten it by holding the strands between the two plates. Nothing is necessary to style your hair. A good firm provides your flat iron with all of the best alternatives so that it can increase the smoothness and beauty of your hair.
One significant distinction is that flat ironed hair is tough to maintain for more than 2 days. If we carefully care for our straightened hair, we can keep it straight for 2–3 days at most. Our silk pressed hair, on the other hand, is designed to last at least two weeks. The time can extend up to three weeks if you do not wash your hair.
Read More – Why Does My Hair Take Longer to Dry or Dry so Fast?
Differences Between Flat iron vs Silk press quick points
| | |
| --- | --- |
| Silk Press | Flat Iron |
| Silk press is a styling technique. | Flat iron is but a heating tool with two plates. |
| Silk press brings more movement and shine to hair. | Flat iron might make hair a little stiff. |
| Longer-lasting results. | Shorter-lasting results. |
| Silk press can last from a couple of weeks to a month. | Flat iron last less than a day or up to a couple of days. |
| Silk press method is bit costly as it involves use of few products. | Flat iron method can be done at home. |
| It is a great alternative to permanent straightening. | Its is temporary hair styling technique. |
| Silk press is also recommended for all types of hair, but they are generally recommended for those that have curly and coarse hair. | Flat iron can be used on all type of hair but those who have thinner hair can use it on low heat. |
How Long Does The Silk Press Last?
Even if we use some cool tools or go to a well-known salon for our silk press procedure, we shouldn't forget to take care of them. The reason is simple: we cannot afford to keep heating them again and again.
Is Water Good for Silk Press?
Silk press however demands a great sacrifice of avoiding water. Water can at once reverse your silk-press hair back into the natural hair. In order to maintain your silk press you need to abstain from water for at least for 2 weeks or longer.
Can I go to the Beach or at a Party after Getting Silk press?
If you intend to go out on a beach or to some rainy areas, it may damage your silk press. In most cases women do silk press before attending a party or going on holidays with friends or family.
Your hair will return to its original shape because of the moisture and humidity of that area. All the time money and efforts you put into making your hair silk pressed will have been wasted
Those who have done the silk press previously and kept it for a good time know that its not a simple process. It involves many steps and a lot of heat. Both Heat and all the process can be challenging to repeat too early on our hair. Also many stylish people prefer to silk press our hair in 4 to 5 months.
Silk press or Flat iron, what style is good for my hair?
In order to flatten and lengthen your hair, both flat irons and silk press use two panels of heat. Straighteners can come with special settings, protective coatings, and even steam capabilities, depending on their price.
While heat damage is a genuine issue, employing a heat protectant and spacing out the times you use a straightener or have a silk press will help reduce it to a minimum.
In many respects, silk press are a better and healthier option to other traditional hair straightening techniques, such as relaxers, which can have harmful side effects if used incorrectly (via Teen Vogue). It's a matter of deciding what would be best for your hair, even if you have a treatment or do it yourself at home.
Read More – How To Increase Density of Hair Naturally