Trend changes now and then, to keep up with the trend you try different stuff. The hair dying thing comes up, dying your hair with different colors like pink, blue, green, or mixed color. To get colored hair you have to book an appointment to keep up with your fading color is a task. With the hairstylist and the treatment, the rates changes. But with color depositing shampoo and conditioner you can refresh your color, or you can add a new tint to them.
You can give your hair a new look or an enhanced look irrespective of what your hair color is red, black, or grey, with color depositing shampoo in just one-tenth of the cost. But it is not that easy also not that hard that you cannot do it at home, with few techniques and some tricks and tips you can dye your hair at home.
How Color Depositing Shampoo Works?
This color depositing shampoo is safe to use as they are formulated with tinted pigments, it repairs your hair color depositing brassiness-busting color into your hair to perfect its tint. You can also practice with a natural color brightening your hair like lemon juice with blue and purple shampoo giving an extra highlight to your hair.
There are some best color depositing shampoos having top ingredients like keratin, jojoba oil, and aloe vera giving hair great nourishment, strengthening them, and making them soft and shiny. The cooler colors generally offset warm tones.
Pro Tip: We suggest you dry your hair with a towel after your shampoo and before applying the conditioner it will help the color last longer. As it helps the color to penetrate when you remove the excess water from your hair. Also, if you wash with cold water, it increases longer lift to your hair.
The process of Color Depositing
If you have not done color depositing to your hair, then you can note this make a comparison of the length of time you leave your conditioner on to the frequency of the result and how much you want it. You need to remember for this process you need to start with less time to see the result and if you feel you should add more time to then increase the intensity in the next session.
To extend your color life even further, you should wait for 2-3 days between washes and make sure you use a sulfate-free shampoo to help stop stripping the color that is already deposited. Use good hair deposited conditioner so that they do not suds you up and cause you to lose tone.
For those who are going to try color depositing shampoo and conditioner, I want you to know this if you are trying that too much then you will most likely make your hair darker and your hair may get dull when trying ashy tones (a color that is blue or green based, silvery or even white blonde tones)
So, try to use your favorite product on your hair every wash, we recommend it to be used on every 2nd or 3rd wash and see how it affects the look of your hair. And if you do not like to follow it then say bye-bye to your color in few washes. Let us see some best color depositing shampoos and conditioner for different color hair like red, black, grey, blue, etc.
Best Color Depositing Shampoo
Punky Purpledacious 3-In-1 Color Depositing Shampoo & Conditioner
The name itself says it is a purple Depositing Shampoo & Conditioner it has Vitamin B to make your hair strong and nourish them, Shea butter. This shampoo is Sulfate-Free, Paraben-Free, Ammonia Free, Peroxide Free, PPD Free, and Gluten-Free, Vegan, and cruelty-free.
Gives a great result and good value for money. This is a good Color Depositing Shampoo that is good for blonde hair. You can see the images of how it works.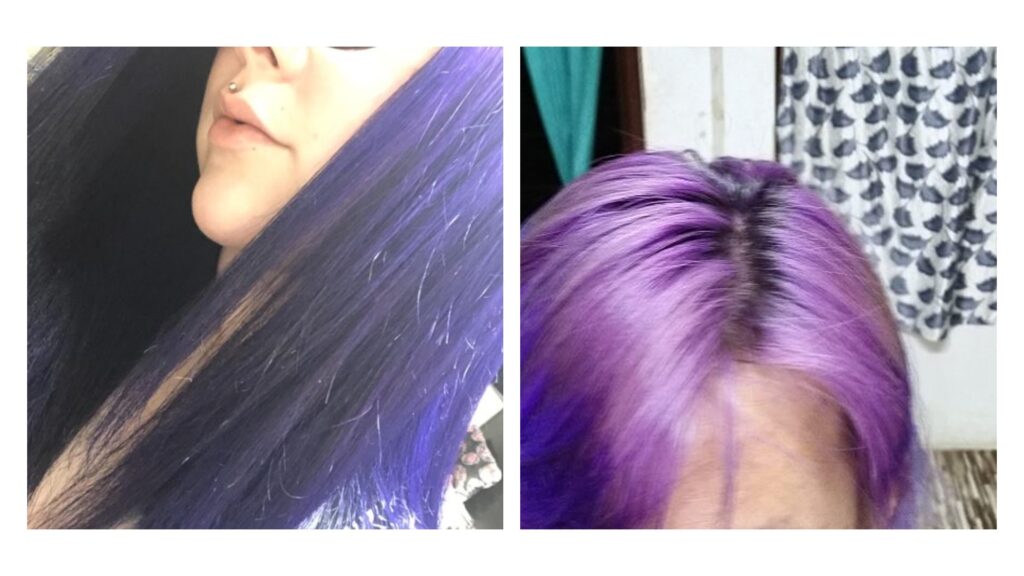 Color Depositing Shampoo for Red Hair
Pure Blends
This pure blends shampoo has lot of colors to give, I have shared the link of Color Depositing Shampoo for red hair or red brown hair


John Frieda Color Depositing Shampoo Suitable for Red Hair
FORMULATED WITH QUALITY INGREDIENTS – Formulated with pomegranate extract and vitamin E, John Frieda Radiant Red Red Boosting Conditioner boosts softness and shine. This is safe for all shades of color, it is a multi-kit that contains depositing color and conditioner, you will get good results if used together.


Read More – Dominican Blowout vs Silk Press Hair Straightening Guide
ALOXXI InstaBoost
This color depositing conditioner comes with a good range of ingredients like coconut oil, sugar beet extract and shea butter condition the hair to nourish your hair and keep it stronger and shiny. Quickly add color to your hair giving intense nourishment to your hair.
This color depositing conditioner comes in all colors like pink, blue, black, grey, green, etc. I have shared the link for the red hair conditioner.


Keracolor Hair Dye Shampoo + Conditioner
A non-leather conditioning cleanser designed to instantly infuse color into hair with every wash. This color shampoo comes in all colors like grey, black, green, purple, pink, blonde, silver, etc.


Shrine Drop It – Blue Hair Dye Kit
Need to break your boundaries and try something new then blue color depositing shampoo is the right choice for you. It is Vegan, Cruelty-Free & Plastic Reducing.


Oribe Bright Blonde Shampoo
This shampoo is good for use daily. it gives a moisturizing effect, cleanses your hair, and add shines to them bringing natural highlight to them.


Aveda Black Malva Shampoo
This shampoo brings the natural shades of your hair out it gives a red and brassy tone to your hair making them look shiny. This color depositing shampoo is for black hair ideally. It helps reducing grey hair and gives your natural color to your hair.


Joico Color Infuse Red Shampoo
This color depositing shampoo is for red hair giving a vibrant red tone to help your hair fading away. It will last long till 12 washes. The color infuses shampoo and conditioner does not contain paraben. It does not fade under the direct sun rays your shampoo is fade-prone to sun rays.


amika Cool Blonde Shampoo
This amika blonde hair dye shampoo keeps the blonde color light and bright. It keeps your hair manageable silky-smooth, with a beautiful scent that you can not forget.


Read More – 16 Sulphate Free Shampoo for Men & Women