Tuba Buyukustun is a Turkish actress, and she was born on 5 July 1982. Currently she is 40 years old (as of 2023) Tuba Buyukustun was born in Istanbul, Turkey. Tuba Buyukustun full name is Hatice Tuba Buyukustun. Tuba zodiac sign is Cancer.
The Buyukustun are usually comes from eastern side of Turkey that is Erzurum. Tuba has won many awards including television awards and Tuba is the highest paid actress in Turkey.
Tuba Buyukustun has studies Costume Design and Set Designing at the Mimar Sinan University. Her career in entertainment industry started in 2003 in a television series where she appeared in last 4 episodes of Sultan Makami. She was previously appeared on many television advertisements.
She was the telecasted in a film Yüreğine Sor by Yusuf Kurçenli where she played role pf Esma it was released in 2010. After that in 2010 Tuba Buyukustun appeared in a television series Gönülçelen" (Delilah) she played a role of Hasret. a gypsy wanderer girl.
Tuba Buyukustun Series and Movies
In later 2012 she got a change in a dramatic series 20 Dakika (20 Minutes) It was the so far the greatest performance by Tuba Buyukustun that she was also nominated in 42nd international Emmy Awards for Best Actress. She was a good will ambassador of UNICEF in 2014.
Later in 2014 she got a series Kara Para Aşk (Black Money Love).
In 2015 she played a character called Zeynep in The Jungle movie it was a short series.
Later in 2016 Tuba Buyukustun played a role of Helin in Tight Dress movie
In 2017 Tuba Buyukustun acted in Red Istanbul where she played a role of Neval.
In 2017-2018 she started a TV series Cesur Ve Güzel she was Sühan Korludag.
In 2019 she acted in More movie played a character of Ahra.
In 2020 she played a role in a short TV series Rise of Empires: Ottoman and she played a character of Mara Brankovic.
In 2020 she was a part of TV series Menajerimi Ara her character name was Tuba Buyukustun
In 2021 Tuba Buyukustun is playing a role of Mavi Efeoglu in a TV series called The Ambassador's Daughter
Currently Tuba Buyukustun charges 120,000 TL Turkish Lira per episode.
Read More – Hande Dogandemir TV Series, Movies, Husband
Tuba Buyukustun bio and Family info Husband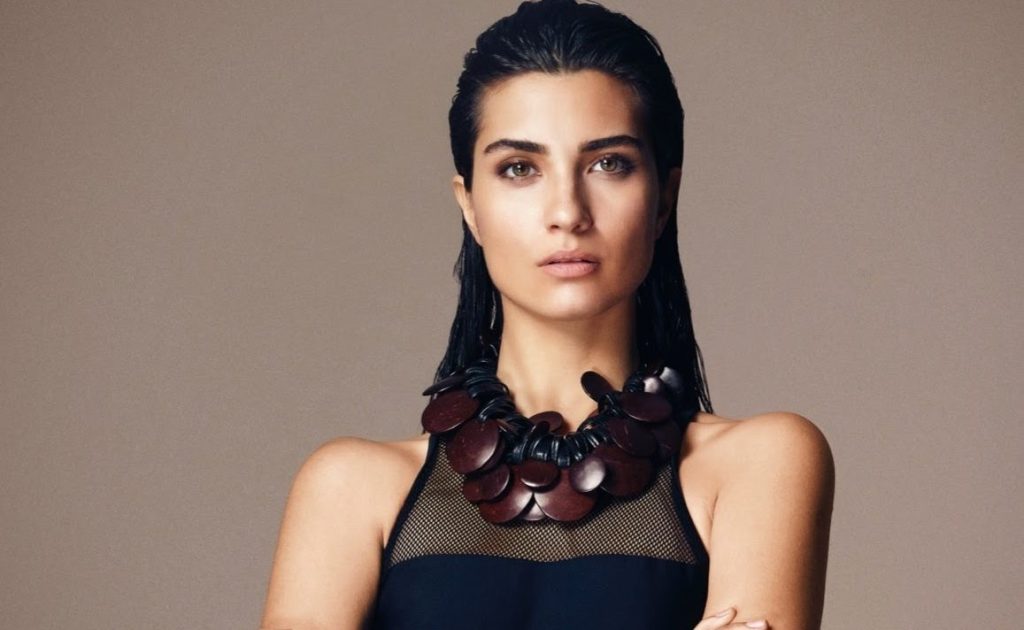 Tuba Buyukustun husband name was Onur Saylak he is a Turkish actor, the marriage lasted from 28 July 2011-2017 and now she is divorced with 2 children both daughters. Tuba Buyukustun Favorite food is Manti (Dumplings) and her favorite destination is Paris.
Tuba Büyüküstün and Bülent nal had a relationship that lasted from 2005 to 2007. Beren Saat, of course, is to blame for their split. Beren Saat had an affair with Bulent Inal and that was the main reason for the split.
Beren Saat and Tuba Büyüküstün were grouped into the following most promising young stars of the time, with the potential to become Turkey's leading actresses. Tuba Büyüküstün and Beren Saat became rivals because of this surprising love triangle. They both agreed not to collaborate in each other's project.
Tuba Buyukustun hobby is Drawing, and that's why she pursued her passion by studying costume design and set design at Mimar Sinan Fine Arts University, Turkey's best fine arts university.
| | |
| --- | --- |
| Born | July 5, 1982 in Istanbul, Turkey |
| Birth Name | Hatice Tuba Büyüküstün |
| Height | 5′ 8″ (1.73 m) |
| WEIGHT | 59 kg (123 lb) |
| BODYTYPE: | Slim |
| HAIR COLOR: | Dark Brown |
| EYE COLOR: | Hazel |
| ZODIAC SIGN: | Cancer |
| Children | 2 |
| Daughter(s) | 2 |
| Father | Serdar Büyüküstün |
| Mother | Handan Büyüküstün |
| Net Worth | $6 million |
| Hobby | Drawing |
Tuba Buyukustun Short Hair Pictures

Tuba Buyukustun Long Hair Pictures

What is Net Worth of Tuba Buyukustun?
It is said that Tuba Buyukustun net worth is around $2 million dollar. And she is the highest paying actress in Turkey.
Husband Name of Tuba Buyukustun?
Tuba Buyukustun husband was Onur Saylak he is a Turkish actor, their marriage lasted from 28 July 2011-2017, and now she is divorced, they have 2 children both daughters .
What is Tuba Buyukustun Favorite food?
Tuba Buyukustun like to eat Manti (Dumplings)
Who is Tuba Buyukustun Dating Currently?
It is said that she is in a relationship with businessman named Umut Evirgen, and he is 7 years younger to her.
Tuba Buyukustun and Engin Akyürek got Married?
Tuba Büyüküstün and Engin Akyürek's got Marriage in Sefirin Kızı Spar, Yes the news is real, and we have few pictures for you too.
Who is Tuba Buyukustun Husband?
Tuba Buyukustun husband is Engin Akyürek's, recently this power couple got married in (Jul-Aug 2021) and it was a shock in pleasure to their fans.
Read More – 8 Celebrity Skin Care Routine That Everyone Should Follow