Retwisting Dreads & locs can be tricky because there are so many products available. Here are some of the products you can use to retwist locs, some of which are homemade and others store-bought. We have done our research and also asked experts about the products to use on our dreadlocks. So here are some of the best products to retwist your locs.
When I discuss locs with my friends, I tell them that products won't work on loc hair. You don't have to worry about products because your hair locs will be a natural process. It is completely up to you whether to use products (natural or otherwise) on your locs. If this is so, why would you use them? Well, there are just three reasons why you might want to use products to retwist your locs:
Preference – Some people may prefer a sleek, 'layered' look;

Shape – by adding some products, you can keep the structure of your locs in a particular way, which is what may help shape your locs.

Glow – products can add some shine to your locs as well as adding moisture.
You may want to try a few of the products that I've used and love, and you may also be aware of a couple of brands that make products for retwisting locs that you may find useful. Since hair locking has different philosophies, I'm going to present a few options for everyone.
Best Products for Retwisting Dreads & Locs
If I am buying products for my locs, I always make sure that they are oil-based or water-based. Your locs will not accumulate buildup from oil-based or water-based products. Aside from that, I check to ensure that there are no harmful ingredients in the product.
How is Lion Locs- Moisturizing Gel for Retwisting Dreads & Locs
Due to its moisture-holding properties, this product is ideal for retwisting Locs. It contains aloe vera and water, which are two of the best things to add moisture to your dreadlocks.
decoding="async" border="0" src="//ws-na.amazon-adsystem.com/widgets/q?_encoding=UTF8&ASIN=B07XYH7JGH&Format=_SL250_&ID=AsinImage&MarketPlace=US&ServiceVersion=20070822&WS=1&tag=kaush-20" alt="Best Product to Retwist Locs & How Often Should You Retwist Locs?" title="Best Product to Retwist Locs & How Often Should You Retwist Locs?">

Dr. Locs – Imani Locking Spray for Retwisting
Retwisting locs is made easy with Imami locking spray by Dr. Locs. This solution is water-based, lightweight, and easy to use, making it ideal to retwist locs. Those of you who are part of the loc community have probably heard of this product. Easily available at any local hair or herbal store, this product is made up of natural ingredients.
African Pride Black Castor Miracle Loc Gel
Although I have heard positive things about this product, I have never had the chance to use it. It contains many hair-friendly ingredients and is water-based. The product also contains a few other ingredients I prefer not to consume, such as dyes and fragrances. So what makes it on the list? I like my articles to be full of information. Many people don't have an issue with dyes in their products.


Lockology – Locking Gel
An innovative lightweight gel for moisturizing, conditioning, and providing a light hold without building up. Because this gel only contains 12 ingredients, it can be used on locs at any stage, from the beginning to the mature stage.


Read More – Synthetic Lace Frontals: How to Install a Complete Guide
Aloe vera gel
The AVG program works well for me. It doesn't build up nor cause flaking. When it comes to retwisting my locs, I prefer homemade aloe vera gel over those sold in stores since I can ensure that I am using true aloe vera gel and I can use my own blend of essential oils to meet my hair care needs.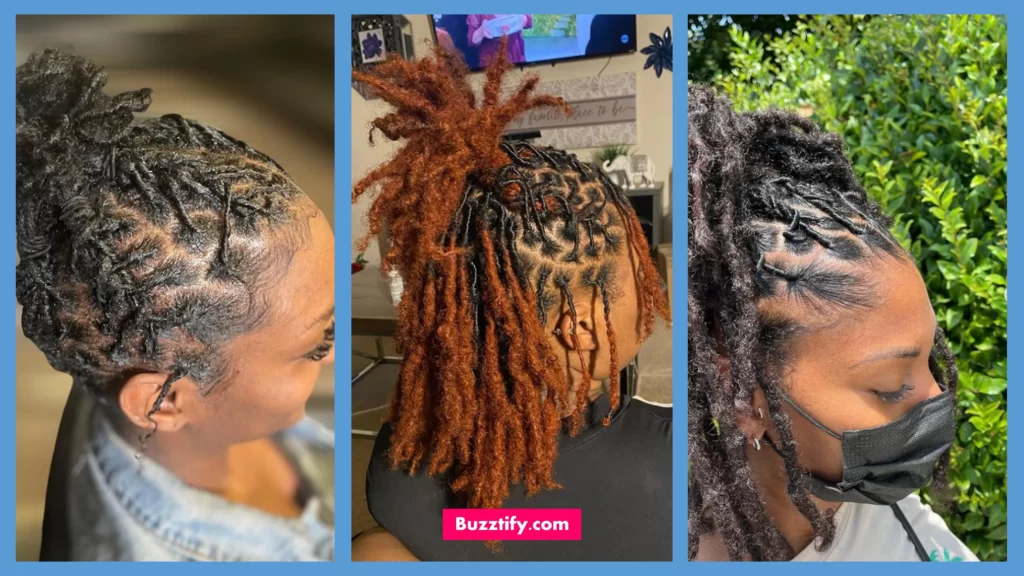 Homemade Products for Retwisting Dreads & Locs
Made-at-home products are my favorite. I enjoy both making and using them. As part of my efforts to share some of my homemade products with you, I'm also sharing some recipes here so that you can also make some items.
Flaxseed Gel
Retwisting locs with Flaxseed Gel is my favorite homemade product. You can make it easily, it is cheap, and it doesn't build up on your hair. There are only two main ingredients (flaxseed and water) needed for this recipe. The castor and essential oils can be customized as well.
Oil and Water Mix
You can also create a simple product by mixing oil and water. You heard me correctly, only oil and water. The two ways to do it are either by adding your favorite essential oil to a spray bottle and spraying it on your hair or by applying it directly to your hair after you wash it. The hold will be perfect if your locs are mid-length to long, and if your locs are short, the hold will still hold but will not last as long.
Aloe Vera gel
It is known that Aloe Vera Gel provides a strong hold. Homemade aloe vera gel is used to moisturize and rejuvenate hair and skin by many people. It is possible to use aloe vera in two ways, slicing it up and letting the gel drain out is the simplest method. Another method entails extracting the gel, whipping the gel, and adding your essential oil or carrier oil. You can make this product in several ways.
How Often Should You Retwist Locs?
Retwisting is best done once a month at the most. Your locs won't stay twisted forever, so don't retwist them too often. Retwisting the locs more often may seem tempting, but try not to do it more than once a month.
It's a good idea to do a lot of research about locs if you're thinking about getting them. Knowing what you're getting into will help you make an informed decision.
When Should You Retwist Starter Locs?
When starting out with locs, it's important to be patient. Results may not be seen immediately. It is a good idea to twist your locs once a month. It's especially important for starter locs.
You need to do this if you have not done it yet. Many people wait much longer than that. An ideal interval would be every four to six weeks.
When you retwist it too often, the roots can become too tight, which makes retwisting very difficult. As it becomes looser, your hair will not like it.
If you retwist it too tightly, it can even hurt your scalp. My friend got starter locs a few months ago, and this happened to her.
Retwisting your locs after washing them is the best way to maintain starter locs. It could take up to three months before you need to do this. You can decide what suits your taste and if your hair can handle it.
Read More – Knotless Braids Vs Box Braids