Spring Twists, often referred as Natural Twists or Passion Twists, are a stunning, structured, and fluffy two-strand twist style. Spring twist or passion twist is mostly tried in the summer season or you can say it is a summer trend hairstyle, but this trendy hairstyle can be tried all the season.
As this new hair twist has a natural look and you can try a different variety of hairstyles. Spring twists are a personal favourite due to their adaptability and the fact that some types are light enough to wear in a bun without becoming too heavy.
Here in this article we will discuss how to do the installation of spring twist for curly hair, products for spring twist hair,and care and maintaining your curly hair.
What are Spring Twist or Passion Twist?
Spring twists are a long-term classic look that is not only not simple to do but also manageable., this strategy for protecting your hair as it develops or converts to natural hair. The style needs the use of coily hair extensions in order for the final look to be energetic and bouncy.
Spring twists are created with modification of traditional Senegalese twists. It is their textured, bouncy quality that makes them stand out from the crowd.
What Type of Hair Should I Get for Spring Twists?
So if you are confused or new to spring twist hair styling, then follow these tips to choose your spring twist crochet braid hair.
Make sure you get spring twist crochet braiding hair or any coily crochet braiding hair for your extensions. These are not natural or real hair, they are synthetic that has been created to be more bouncy and coily. Remember this the more coily you get the hair the more springier your twist will become, giving your nice bouncy look.
Where to Buy Spring Twist Crochet Braiding Hair?
You will get the spring hair at your hair extension specialist retailer, or you can buy it online too. I will share a few shortlisted spring hair extensions for you.
Remember crochet braiding hair comes in a variety of lengths, from short to long. Determine before how long you want your twists to be..
8 inch Spring Twist Crochet Braiding Hair
36 & 18 inch Spring Twist Crochet Braiding Hair
If you are looking for long spring twist hair will your waist line then you should go for the below mentioned spring twist hair extensions. These are 36 inch and 18 inch crochet braiding hair.
Which Type of Spring Twist Hair To Buy?
If you want to save your time on installation, then we recommend you to go for a pre-twisted spring hair extension, they are ready to use spring twisted hair. You'll just have to use a latch hook to secure these braids.


How Many Packs of Spring Twist Hair Should You Buy?
You should decide on your hair thickness and the length of the twist hair you want and then decide how many packs of extension you need to buy. To be on the safer side start at least with 3 packs of braiding hair.
Hair that is extremely dense may need more braiding in large quantities compared to that of someone with thinner hair.
When it comes to braiding hair, who wants big twists, requires more than who needs natural and thinner twists.
Read More – Silicon Mix Bambu vs Silicon Mix
Step by Step Preparing Hair to Spring Twist Hairstyles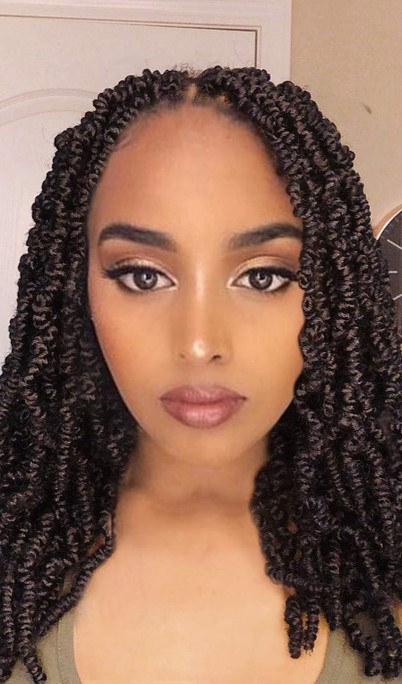 Thoroughly shampoo your hair
Conditioning your hair
Drying out completely
How to Install Spring Twist?
To ensure that you obtain the greatest possible result, this section will go over each step in depth.
Step 1 Get the Following Material:
Leave in conditioner
Rat tail comb
Wide tail comb
Latch hook (for crochet method)
Rubber bands (for rubber band method)
Edge control gel or smoothing product
Scissors
Spring twist crochet braiding hair
Step 2: Wash, moisturise, and blow-dry your hair. Before blow-drying your hair, use a heat-protectant product.
Step 3: The crochet braided hair must be prepared in advance.
Those who have purchased pre-braided spring twist hair can skip this step.
Pick up a segment of spring twist hair, divide it, and rough it up to get that ideal curly pattern.
Step 4: Create a partition of your hair and oil your scalp.
Sectioning your hair into equal pieces is the next step in this process. The hair size you split it depends on your preference. You can create small hair parts like ½ inch or 1 inch or 2 inch too.
Even if you want to do all sections of your hair you can do it. But then make sure to part them loosely and twist, your pieces will stay unchanged until you are ready to install the twists
Oil the visible scalp so that it will remain moist and supple during the twisting process and afterward.
How to do Spring Twist Hairstyle at Home
You can apply the extension hair by following these steps to create spring twist
You need to pick a good parted portion of natural hair, use edge control gel or smoothening products and apply on your hair from root to tip.
You'll want to grab a segment of your spring twist hair and place it at the base of your natural hair.
Use one of the three braiding portions to be your natural hair. This will help to reduce slipping and falling accidents.
By dividing it in half Join each portion of extension hair to the normal hair.
Now start 2 strands twisting, After every pair of twisting motions, pull one section upward.
When you reach the end, coil your fingers around the twist to seal it.
The ends should be neatly trimmed if you wish them to be neat.
And you can continue doing it to your complete hair.
There is a rubber band method to make the spring twist but I don't want to cover it as it may lead to damage to your hair. Your hair can stick to rubber or you may make the grip too tight breaking your hair. Instead follow the crochet method to spring twist.
Crochet Method for Spring Twist
This method is not for those who purchased pre-breaded spring twist.
Your hair should be braided in seven to ten french braids.
Now Insert the latch hook into the braid by placing it under the braid.
Now take the latch hook so that you can pull the spring twist braid from the french braid.
And make a knot by pulling the spring twist through the hole.
Repeat the same process for the rest of spring twists.
How can I Maintain My Spring Twists?
So, now you have invested your time and money to make the spring twist and you want it to last longer, then you should follow these processes for maintaining your spring twist.
Spring twists should be cleansed every now and then, this all depends where you are located what is the temperature around you is, your hair health, your scalp sensitivity.
Make sure you wash your spring twist gently, place them on some platform taking a support and clean them, you can use a conditioner too to make them glossy and smooth.
Keep your scalp moisturized, apply oil 1-2 times a week or when you feel your scalp is dry.
Put in a silk or satin scarf or headband to keep your hair safe at night.
What is the Cost of Spring Twists?
To make a spring twist hairstyle it may cost $150-$300, it does not include extension cost. The extensions may cost from $15-$30 per set from where you purchased it and the quantity, installation cost extra.
How Long Does a Spring Twist Lasts?
Spring twist may last for months, but there are some experts recommend that it should not be kept more than 2 months to protect your hair from being frizzy and breakage.
Spring Twist Pros and Cons
There are a lot of advantages and disadvantages of spring twist here we have shortlisted some points.
Spring Twist Pros
They look good and suit all face shapes and types.
Long lasting for 5-6 weeks.
Create a protective layer to your hair.
Can be easy to install once you are familiar with them.
Spring Twist Cons
Takes lot of time to install if done by yourself.
Compared to rest braids style they do not last longer.
Can be expensive when done by a stylist.
May damage your hair if proper care is not taken.
Read More – Dominican Blowout vs Silk Press