The Doobie hairstyle, many also refer to it as a wrap hairstyle, and it is one of the key elements of the Dominican Blowout. Your straight look will last for the entire week simply by stretching and holding your hair. Is it possible that this doobie hairstyle method damages your hair?
How to do a Doobie Hairstyle like Rihanna or Kim Kardashian?
When your hair has been washed, condition­ed, roller­ set and blown out, the Doobie is the final step that will guarantee a silky swoosh and the signature appearance of Dominican Blowout. Wraps will help you achieve naturally straight hair flow, hanging and moving like natural hair.
After you get out of the salon, If you keep the wrap overnight it gives your hair a good stretch for a longer period, as it acts like a straightener effect to your hair, as it sets in place while the hair is still warm and flexible.
A Blowout or press lasts longer if you wrap your hair into a Doobie at night before bed. Stretching, wrapping, and holding your hair counteracts this process. As your hair slowly soaks up moisture from the air, products, and handling, it shrinks.
A Doobie will allow you to prolong the life of the straight look without overexposing your hair to the heat by getting touch-ups during the week.
With the right technique, you can maintain sleek, smooth hair or make it slightly bent or bumped for some added volume. Wrapping your hair the night before gives straight hair shape and form. It also sets your parting in place for the next day. Even the kinkiest of hair can be groomed with this process, making it so special.
Does Doobie Damage Your Hair?
There are challenges to wrapping, just like every other procedure. Below are some common difficulties and how you can avoid them:
Over Brushing can Damage Your Hair
Brushing is a style process that increases pressure on the hair over time and mostly we do not pay attention to how much pressure we are giving on our hair. Alternatively, overbrushed hair looks weak, brittle, and unruly due to friction.
Brush your hair efficiently to get the best results, be sure to use gentle bristles such as boars and flexible plastic, silicone, rubber and avoid nylon brushes.
You need to beware of styling fatigue
Repeating a style over and over will weaken your hair. So, just as pulling hair back into a ponytail excessively can wear out your hair due to the friction and tension used to create the style, overusing Doobies, as a styling method which also relies on tension, can damage your hair.
Read More – How To Increase Density of Hair Naturally
Causes of Tight Wrapping your Hair
Most Doobies are damaged because of tight wrapping. Those who wrap their hair too tightly cause their edges to become stressed, overstretch, and, thus, thinning and weakening of their hair over time.
To make your hair extra sleek, don't pull it too tight. You should brush your hair first before wrapping it to make sure it is as smooth as possible. When your hair tends to come loose easily, use more bobby pins instead of more tension to stabilize it.
You can rest assured that you will not cause any Doobie-related damage to your hair if you stay away from these common errors. As a result, you won't be stuck with straight hair and you'll have the ability to switch back to full-blown, bouncy curls when you need it!
Doobie Hairstyle Products
Doobie Wrap by Celebrities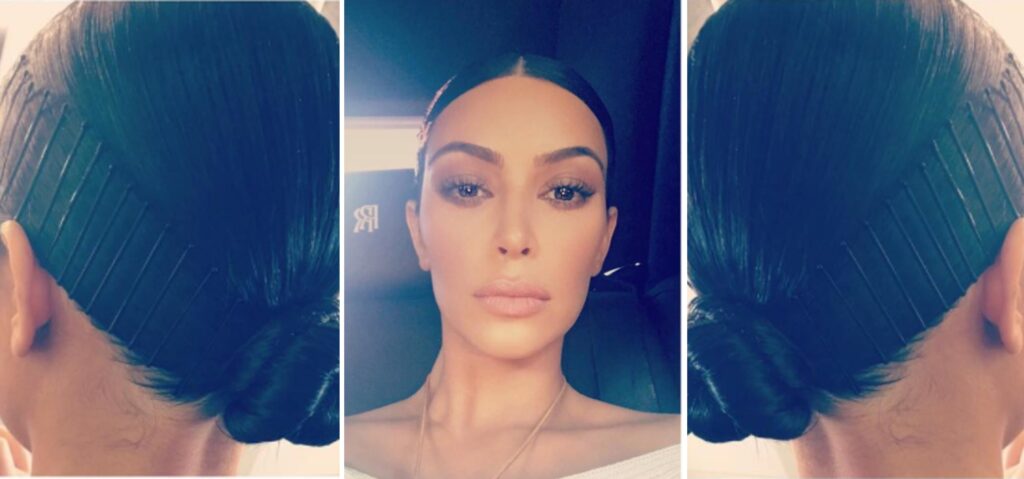 Doobie wraps cover your whole head with hair, but Kim's look involves a bun, which makes it a bit different. Although the design is almost identical to the traditional style, we cannot ignore that.

Rihanna looked stunning when she wore her hair wrapped at the 2013 American Music Awards, but she faced a lot of criticism for the style wearing it to the award show.
Doobie wraps aren't new to brands or celebrities. Models in Chanel's Haute Couture show were styled with a look that was similar to the protective coating method.
Read More – What are Microlocs vs Sisterlocks: Pros & Cons