Our skin's condition is affected by many factors including pollution, anxiety, and sunburn that often has a major effect on the condition of the skin, at our complexion, and making your skin more vulnerable to roughness, bumpy, grainy, bruises, and sagging texture.
Well, there are a lot of factors that come with when your skin texture becomes grainy or rough. The factors are like your age is the natural one, several hormonal changes like menopause, perimenopause can cause a lot of damage to your smooth skin and become textured. Some may face issues with genetic conditions like eczema, keratosis pilar, psoriasis, etc., these are more vulnerable to facing rough and dry skin.
What Causes Skin Textured?
There are a lot of reasons that can cause textured skin on the face. It can appear to people if they have a history of acne, they may get little red bumps under their skin, those who have a habit of popping the acne bumps may get acne scars.
It can also cause by dead keratinized skin cells and it can become uneasy to the skin and it some texture can appear on your face or skin.
Causes of Uneven Skin Texture
On your surface of the skin, there are a lot of dead skin cells, damaged by pollution, genetic, your skincare treatment is not up to the mark and the diet may cause you uneven skin texture.
Nowadays people are looking for smooth skin or skin as a mirror-like texture. It is the most flawless skin that does not have any texture it is very smooth with even tone, does not have any bumps or rough texture but a lustrous feel.
To get that effect your skin should be hydrated all the time it requires a lot of water to be lustrous smooth skin that reflects light.
You need a set and constant routine for your skincare with toners, serums, cleansers, and a hydrating moisturizer. But do not let yourself down you should get what you want. Here we have shared some techniques to get clear mirror skin texture.
How to get Glass Like Skin Texture
These products should be there in your drawer that contains an acid like AHAs & BHAs. This Alpha Hydroxy Acid and Beta Hydroxy Acid You will find in most skincare products like moisturizer, toner, cleanser, exfoliating products. This improves your rough & bumpy skin texture.
Exfoliator is essential to the skin we cannot imaging clear and smooth skin without having an exfoliator. You can use various exfoliators available in the market as a chemical exfoliator like glycolic or lactic acid or crushed walnut etc.
If you want to get a clear and smooth skin texture, then you should cleanse your face every night before going to bed. All the dust, makeup, your sunscreen should be out of your skin.
If you have uneven skin texture, then I will recommend you use a chemical peel that will get rid of uneven skin.
Improve Your Skin Texture with These Products
Repair Your Skin Texture with Exfoliator
To get a glass like skin texture you should exfoliate your skin at least once a week with your washcloth or a sonic brush. But you should find a good exfoliator for your skin that can solve your problem here we have shortlisted some of the best exfoliators in the industry.
Paula's Choice Exfoliant 2% BHA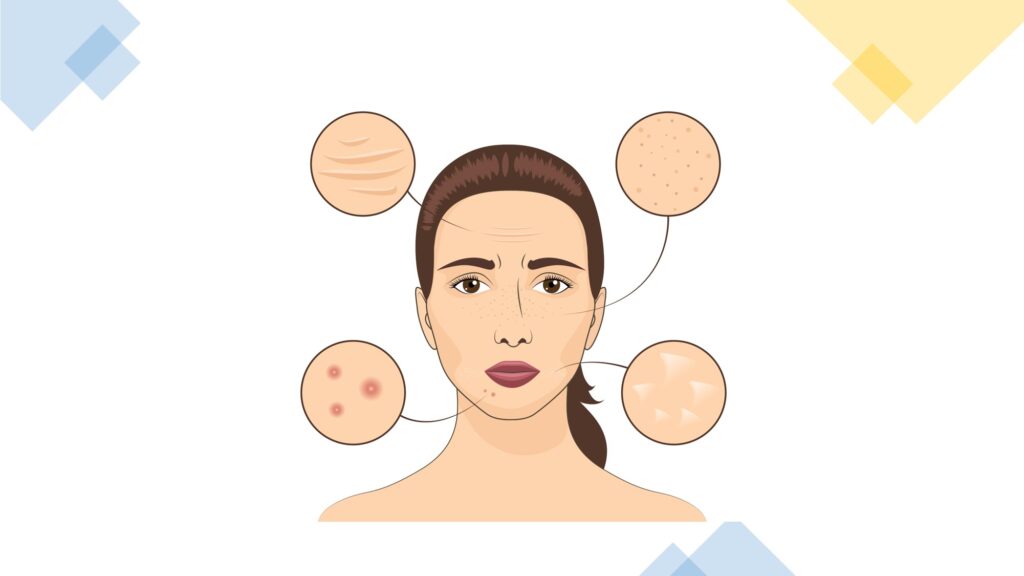 Minimalist 2% Salicylic BHA Based Exfoliant


Paula's Choice 8% AHA Gel Exfoliant


Cetaphil Daily Exfoliating Cleanser


Read More – Progeline Anti-aging Cream Benefits & Does it really work?
Water to keep your Skin Hydrated
Skin that is moisturized often seems less dull, which is a common symptom of irregular texture. Staying hydrated during the day will help to improve skin texture because moisture keeps skin look and feel healthier.


Sunscreen to Protect Your Skin
Wearing your sunscreen when you are going out is essential it will help your skin to protect from the Sun UV rays. Mostly uneven skin texture is caused by the sun and it will also promote the pores to open up. Here is the list of sunscreen that you can use under your makeup.
UvDoux Sunscreen Smooth Wrinkles


RE' EQUIL Sunscreen Gel


Cheryl's Sunscreen Spray


Vitamin C for Skin Brightening
One should use Vitamin C, it is an ingredient that does protect your skin from radicals in the environment that cause uneven skin. It nullifies the lines on your face and promotes bright skin. As they contain glycerin that helps you retain the moisture from the skin.
UPAKARMA Vitamin C Serum


Minimalist Vitamin C Face Serum for Glowing Skin


Chemical Peel to Repair Skin Texture
If you are looking to remove the dead skin or want to exfoliate your skin and you cannot find a dermatologist then consider this peel to treat your skin at home. This Peel contains ingredients like Turmeric Extract & Aloe that will heal and soothes skin after peeling making it suitable for dry & sensitive skin as well.
Minimalist AHA 25% + PHA 5% + BHA 2% Peeling Solution


Read More – Effective and Natural Skin Tightening Tips