The logistics sector is estimated at 160 billion USD at present and is likely to expand up to 215 billion USD by the year 2020, having a compounded growth rate of about 10.5%, according to the Economic Survey 2017-18.
As is the case for any other major industry, the logistics industry is a highly competitive one. Logisticians have increasingly been turning to smart transport networks, to sustain in the market and have a comparative advantage. Technology offers greater connectivity, support, security, and configuration in logistic operations. It becomes crucial for logisticians to make use of technology to ride the growth tide and reap greater ROI.
How has AWS helped?
The major management challenges that fleet owners face cost reduction and resource optimization. To maintain fleet efficiency, they are on a constant quest to shorten downtime and maintain the proper upkeep of their fleet. This is where cloud computing, AWS in particular, comes to the rescue.
Better Infrastructural Governance
Cloud computing has made it possible for fleet managers to rid themselves of physical infrastructure maintaining which can be arduous and cumbersome. This also prevents them from focusing on their core competencies.
Virtual machines offered by cloud service providers can be used extensively for data processing, storage while providing essential computing power for running various applications. This helps in reducing costs, save time and optimize space. This infrastructure can also be converted into a SaaS, which benefits both the user and the client.
Keeping Track of the Fleets
At times it gets difficult for fleets to update their respective locations to the primary server due to connectivity issues. This gives way to delays and fragmented data, which greatly hampers fleet operations.
Digital telematics can help in tracking entire fleets accurately along with offering other functionalities such as tracking of performance, assets, environmental conditions, driving patterns etc.
Flexible Scalability even in Remote Areas
Traditional methods allow infrastructures to upgrade only up to a certain extent subject to time, money and space constraints. AWS Cloud has rid organizations of this, to a large extent.
It makes it possible for fleet owners to scale their IT infrastructures as per user requirement, with added features of pay as you go, negating the need for complex licensing processes.
Freight Marketplaces in Trucking
AWS can be instrumental in best in class adaptive digital freight marketplaces that connect shippers and carriers on the basis of variables such as pricing, location etc. AWS tools can help build complex architectures for such services incorporating multiple machine learning and AI processes.
Data Filtration
Enormous incoming data related to the vehicles and other assets can make the
central system sluggish, if not managed properly. Data generating devices can be integrated with AWS Greengrass, which filters data as per the need of the hour.
It can operate flexibly on intermittent networks and there is no need to establish constant connections. Kinesis data analytics can help businesses make well informed decisions in the long run by helping them in real time monitoring and analyses of the devices involved.
How has IoT and Edge Computing helped?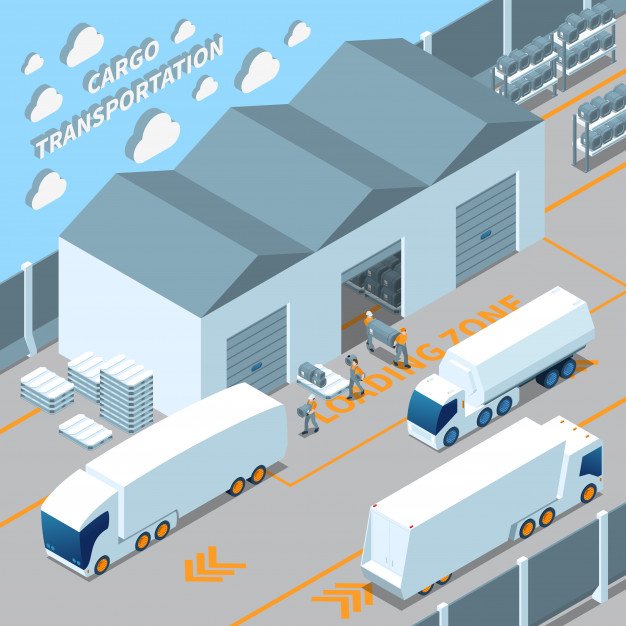 IoT has a wide scope in the manufacturing and logistics sectors. It has single-handedly revolutionized the way things get done in the workplace and how customers interact with the product/service in the market.
The end goal of any business is bettering its productivity and maximizing customer delight. To reach this end goal, many companies are leveraging exciting new technologies and making use of IoT to create a sustainable and smart ecosystem of connected devices with excellent analytical capabilities. This has given birth to a new phrase- IIoT (Industrial Internet of things).
Overcomes efficiency issues: IoT can greatly help overcome efficiency problems, production losses, supply chain inefficiencies, accidents etc.
Makes Accurate Predictions: IoT has a superpower of collecting huge chunks of data from its sensors, in a matter of minutes and this is the main driver of efficiency within the supply chain. The analysis of this data in order to make accurate predictions is the next logical step, followed by automation.
Improved Response Times: Edge Computing is another computing paradigm that has helped bring data storage and computation (sensors, alarms, motor drives etc.) closer to the source of the data thus helping save bandwidth and improving response times. This happens because the edge device processes the data at the source itself, rather than sending it all the way to the cloud, resulting in faster real time actions.
Processes Vast Data Sets to Create Usable Data: Edge computing or intelligence-aids manufacturers and logisticians in processing vast data sets and converting them into usable data. This helps reduce accidents and commission times on sites.
IoT and Edge Computing in the Logistics Sector
IoT and Edge Computing can aid the logistics sector in more ways than one.
Boost Warehouse Efficiency: Warehouse efficiency can be optimized by proper tracking of equipment and staff. Apart from efficiency, Edge Computing can also help make warehouses safer by preventing accidents (eg: forklift accidents caused by negligence and lack of attention). Wireless sensor tags that record employee movement and fatigue levels can be worn by operators so that hazardous situations can be prevented.
Minimize Vehicle Investment Risks: Fleet management businesses can use IoT to minimize vehicle investment risks by keeping an eye on driver management, fuel management, vehicle maintenance, and telematics etc. They can also monitor their driver's real-time and potential issues can be resolved before they turn into something big.
Get control over energy usage: Internet-capable smart meters not only record the total energy consumption but also when and how of it. Analyzing this data can greatly escalate customer satisfaction as energy consumers get more control over energy
usage and can save their money. This also provides utility companies to optimize the distribution of energy and take effective measures to alter their demand loads.