The rapid growth of NFTs and the remarkable changes in their markets have attracted a lot of attention for a few months now. The use of cryptocurrency or NFT wallets is one of the essential requirements to exchange and store digital assets. Crypto wallets are essential for any exchange.
A large number of wallets are available to NFT enthusiasts. Which one is best for your trading needs depends upon your needs. The safety of your digital property is also protected by a good wallet against a wide range of dangers, hacks, or frauds.
An NFT wallet is necessary if you wish to collect or invest in non-fungible tokens. Using NFT wallets, you can store your cryptocurrency using the blockchain protocol NFTs use. You must also be able to buy NFTs with the currency you're going to use, such as Ether.
Due to NFTs' use of Ethereum blockchains, most Ethereum wallets are compatible. However, some wallets are superior to others.
Before jumping to the NFT wallets, let us see some important points to use NFTwallet & how to choose the best crypto wallet for your cryptos.
NFT Wallet Importance
Unlike a physical wallet, an NFT wallet works electronically. NFTs or cryptocurrency is not stored in the wallet.
As an alternative, it gives access to assets, which are stored on the blockchain. The wallet owner can authorize transactions using the private key it provides for that address. When you possess the private key, you have the right to access anything held at that address.
With a wallet, all the technical details are handled for you and there is an easy user interface so you can buy, sell, and transfer NFTs. As a bonus, it can also provide increased security with two-factor authentication, as well as allow you to keep track of your assets across various devices.
How to Choose an NFT Wallet
When choosing an NFT wallet, some of the most important features to consider are:
It should be compatible with the NFT marketplaces you're interested in buying from. NFTs you want won't be available if it isn't supported.
High levels of security. Many NFTs are worth hundreds of thousands of dollars or even millions. Make sure it's the most secure you can get.
A user interface that is easy to understand. NFTs can be bought and sold more easily with a good user interface.
Cross-platform use. Accessing your NFTs from both a desktop and mobile device may prove useful.
Support for multichains. The Ethereum blockchain is primarily used for NFTs but looks for several other platforms that support them as well. For easy access to as many NFTs as possible, you will need a wallet that is compatible with as many chains as possible.
Now we have seen the reasons why you need a wallet and how to choose the best crypto wallet. Now let us look at some top NFT wallets available.
6 Best NFT Wallets
Metamask NFT Wallet
There are many cryptocurrency wallets out there, but Metamask is one of the most popular. By installing its browser extension, one can easily access NFT marketplaces and other web3 sites. Furthermore, Metamask lets you set up multiple addresses so you can keep your NFTs at separate addresses from your cryptocurrency, or you can make a single address for each NFT you purchase.
A mobile app was built in 2020 by ConSys, the company behind Metamask. It syncs seamlessly between the desktop and mobile wallets. In addition to the built-in mobile browser, the application includes a decentralized application platform and NFT marketplace.
To buy an NFT, you can swap currencies using Metamask's built-in swap functionality. It is also possible to limit the number of gas fees you pay, but there is a risk of transaction failure. Metamask offers support for other blockchain platforms if you need to use another.
Metamask Wallet Pros and Cons
Pros
Every user can easily set up Metamask
Transactions can be synced between the web and mobile extensions
The mobile version features a built-in Web browser for those using Defi and NFT applications
ETH addresses can be easily switched
In the mobile app, it is possible to transfer ERC-721 tokens directly
Token swaps between ETH tokens are natively supported.
Cons
As there are a lot of fake metamask apps on the market, you are at high risk of being hacked
Sometimes the page loads slowly
Math Wallet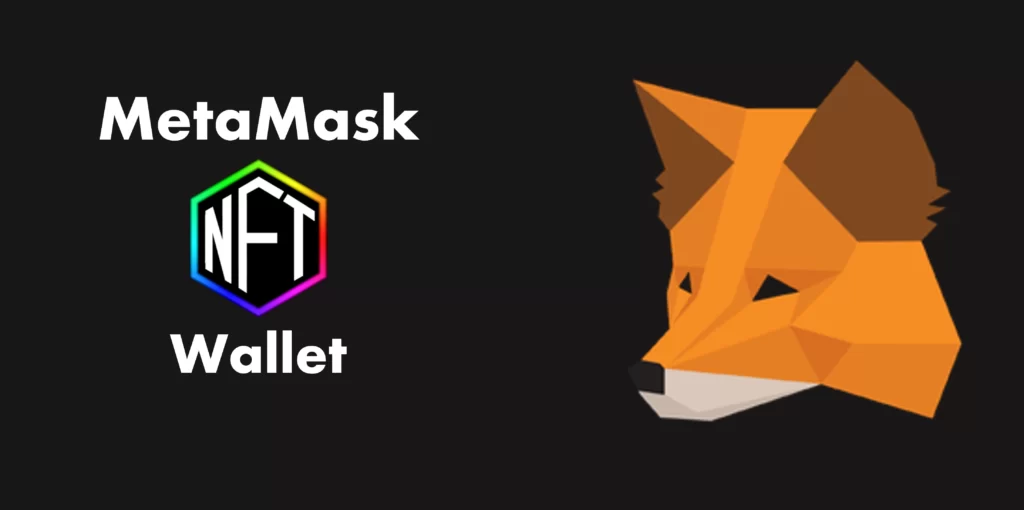 Metamask is a strong competitor to Math Wallet. Over 70 different blockchains are supported by it, which makes it unique. In addition to offering a web, desktop, and mobile wallet that are synchronized across devices, it has hardware wallet integrations as well. In addition, Math Wallet provides the ability to create multiple addresses.
Users of Math Wallet have access to NFT marketplaces via an integrated dApp browser. It also offers staking, swapping, and other features to cryptocurrency holders, as well as a utility token.
Math Wallet Pros and Cons
Pros
Many blockchains are natively supported
Syncing with other devices is easy and there is cross-compatibility too.
Defi and NFT applications can be accessed in one click with a one-click dApp store
A convenient way to swap cryptocurrencies
Math Wallet guarantees security by integrating with hardware devices
Cons
DApp staking issues in iOS
Currently unstable
Trust Wallet by Binance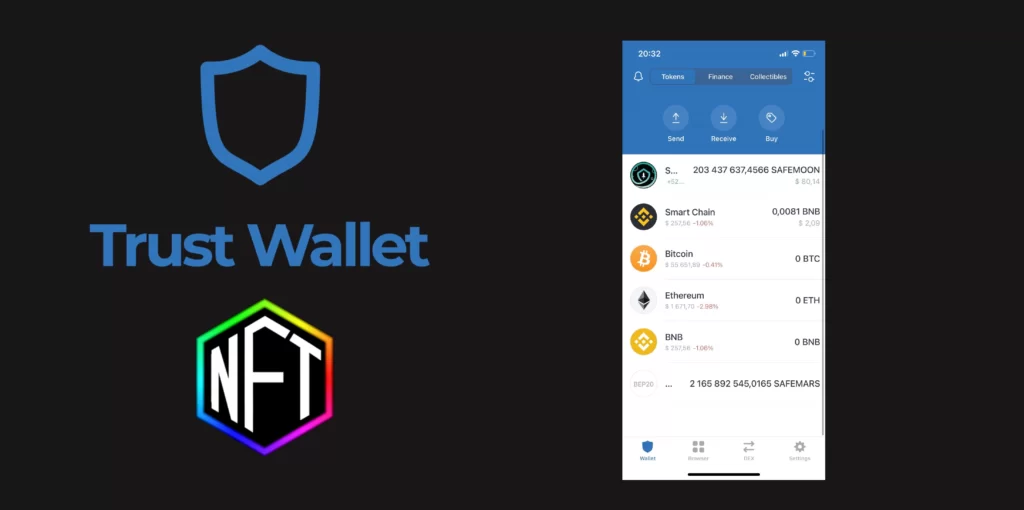 Binance owns the Trust Wallet, a mobile-only wallet. This exchange supports multiple blockchains, including Ethereum, but is biased heavily in favor of smart chain tokens because it is associated with Binance. Therefore, if you're interested in NFTs on Binance, you may want to check out Trust Wallet since it's already configured for BEP tokens.
With Trust Wallet, you can find NFT marketplaces using the dApp browser, which you can then buy NFTs from within the wallet. Furthermore, it has a built-in exchange feature that enables users to easily swap currencies so they have the tokens needed to exchange for NFTs.
Trust Wallet also supports Binance Smart Chain, Calisto, TomoChain, ThunderToken, Ethereum Classic, and GoChain.
Trust Wallet Pros and Cons
Pros
An NFT app can be opened with one click with a smooth interface
Several blockchains are supported
Feature for converting cryptocurrency
Can be used as a crypto wallet and a defi wallet
Cons
Only supports mobile versions
Promotions related to Binance
Read More – What is NFT Farming & How Does it Work?
Enjin NFT Gaming Wallet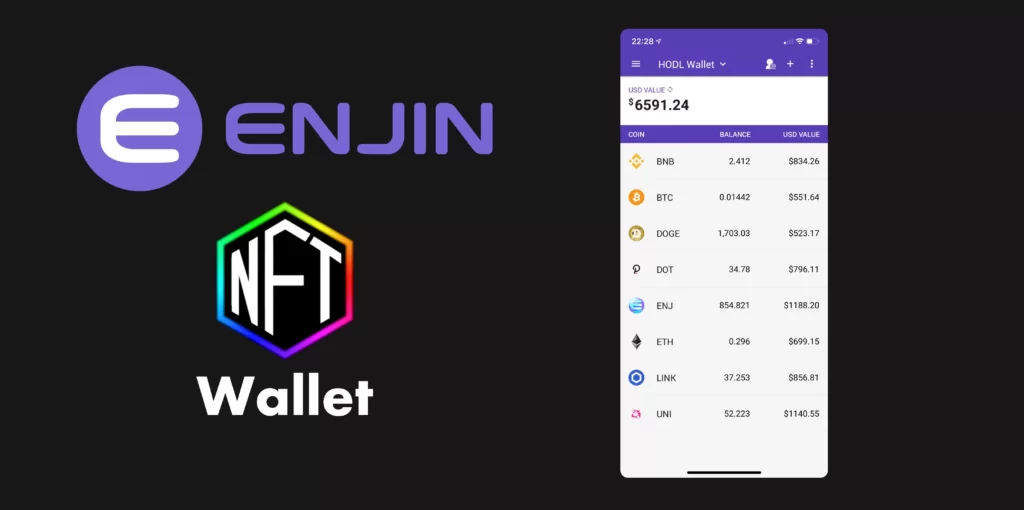 NFT players should take a look at this blockchain wallet, Enjin, which is perfect for storing cryptos and other tokens. In addition to its role as an NFT wallet, it also has its aretoken, $ENJ.
Defi and Ethereum apps are also supported, as is Metamask above. There will be an official NFT wallet app for Samsung S10 smartphones soon.
Enjin Wallet Pros and Cons
Pros
An easy-to-use interface for NFT users
Trading and collecting tokens made easy with one of the best NFT apps
Convert crypto easily with the built-in exchange feature
Support from a reliable customer service department
Biometrics and auto-locking features advance security
Cons
Only available for mobile users
Supports only NFTs and other Ethereum-related assets
AlphaWallet OpenSource Crypto Wallet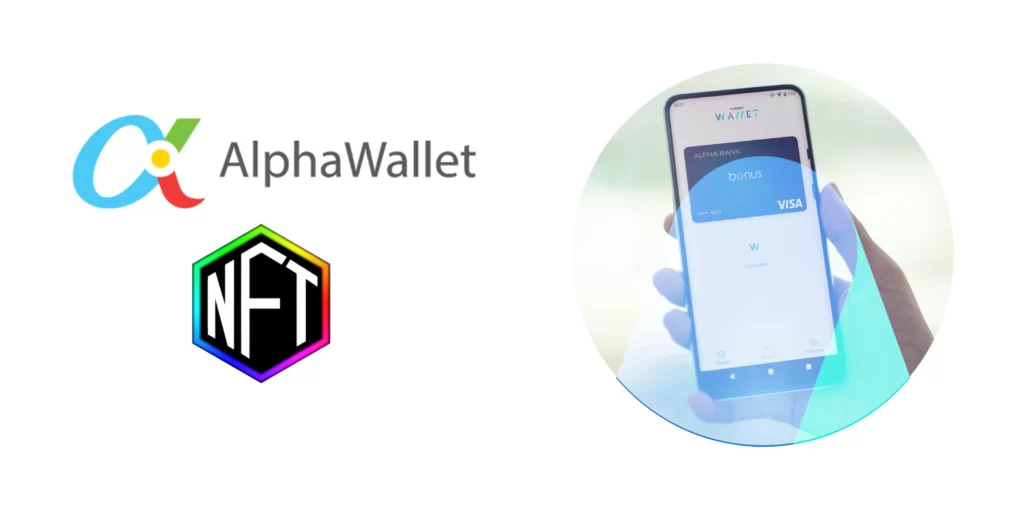 AlpWallet is an open-source cryptocurrency wallet. There are some limitations, such as the fact that it is only available on mobile devices and only Ethereum, but it is notable for its native support for blockchain games and NFTs.
Beginners will find it easy to use because of the simple user interface. Wallets with NFTs and gaming tokens have their sections. Using it, users can also add meta tags to their tokens that can be searched and filtered when browsing their collection.
In addition to other NFT marketplaces and blockchain games, AlphaWallet works directly with Dragonereum, OpenSea, ChainZ Arena, and, CryptoKitties. In addition to its built-in dApp browser, it has direct access to DeFi applications such as Compound and access to other NFT marketplaces.
AlphaWallet Pros and Cons
Pros
Native support for the NFT based on $ETH
Defi and DApps support built-in browser
An easy-to-use interface
Currently under development
Cons
There is limited support. Apps built on Ethereum only.
Compatible only with iOS and Android
Coinbase Wallet for NFT Holding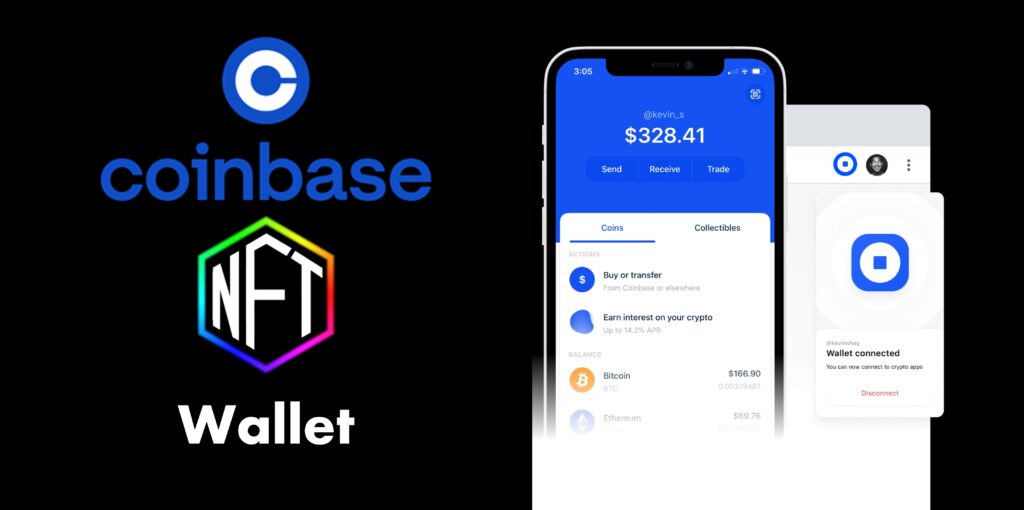 For a long time, Coinbase was known only for its cryptocurrency exchange. Additionally, it is possible to hold NFTs and other tokens in a non-custodial wallet. With the Coinbase Wallet, users have full control over their cryptocurrency, unlike holding it on Coinbase's exchange.
By releasing a browser extension in 2021, Coinbase made it easier for users to access their wallets across devices to buy NFTs and use other dApps. The mobile wallet also has a built-in browser that allows users to access dApps.
Coinbase Wallet's unique advantage is that tokens can be transferred easily by using usernames instead of public wallet addresses. A personal touch can provide a greater sense of security and make transactions feel more personal.
You can also back up your private keys to your cloud drive via Coinbase's one-click feature. By doing this, you'll be able to ensure that your NFTs or other funds aren't lost.
Read More – Cypherpunk NFT Why YOU Need to Buy Now!